Since I only was in the hospital for about 30 hours, and they didn't want the door to hit me on the way out, I wasn't able to garner as many cool souvenirs as I had hoped. SIGH.
But, I am thrilled to report I did get that lovely bottle of lotion I was eagerly anticipating, the cool name bracelet, earplugs, my own toothpaste (did you know they make it in clear gel?) and
TWO, not ONE, pairs of those hospital socks.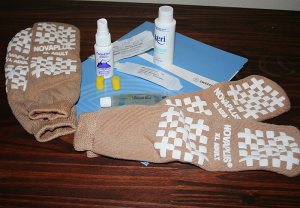 My most prized gift was the bottle of Carra Free unscented Odor Eliminator that Neutralizes Biological and All Airborne Odors. In other words, they were trying to cover up the smell of my projectile you-know-what. What timing, to puke just as the family was standing at the door. Beka was liberally spraying the room while pinching her delicate nose shut. I could see the flaring nostrils of everyone else in the room, while they smiled through clenched teeth.
Dear John, my evening shift nurse, graciously cleaned up mounds of bedding, clothing, and rubber pillows, the bed frame, the floor and I think even the walls. Not sure. I was too embarrassed to look. He was so gracious and kind and didn't even plug his nose.
He did make me promise to not tell his wife that he knows how to make a bed. I promised to not tell her, I didn't promise to not tell blog readers.