…Thanksgiving.
Yes, I am counting the days until Thanksgiving.  In fact, in honor of counting the days until other momentous occasions I have in my life, I added a "How Many Days Until" Gadget on my sidebar.  Go ahead, help yourself.  Drop by and use it whenever you need.
I'm a good sharer.
You're probably wondering why I am planning so far ahead of time.  True confession –  I have already been shopping for several months already.  Not frantically shopping, just "casually browsing while I am shopping for other things" kinda' shopping.
Why so anxious to get started?
My MIL is coming.
For the first time in the 24 years I've been married to her son, she and her husband, that would be my FIL, are coming to celebrate the holiday with us.
I am nervous.  She always worked so we have celebrated very few holidays together, and I have never hosted a holiday in my home with the MIL and FIL attending.
She has taught me a lot about hospitality.  She is organized, cooks delicious food, sets a beautiful table, and thinks of every detail. I don't feel it is a competition, I just want to show her what I have learned from her and make her feel comfortable. I want her to enjoy a nice holiday, for once,  without having to do any of the work.
But, I am nervous.
Did I say that already?  I know that if I plan far enough ahead of time, it should go smoothly. It may be the only Thanksgiving we have together. I want it to be special.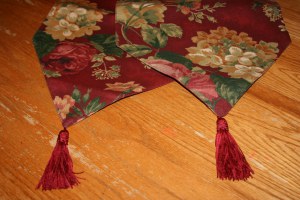 This was the first item I bought, a tablerunner at the thrift store.  It has all the colors I always use, but this year I am emphasizing the greens and golds.
I have tablecloths in solid colors in the light green, gold and maroon. I just buy inexpensive linens to layer over them.
It's a cost effective way to change looks with each season or holiday.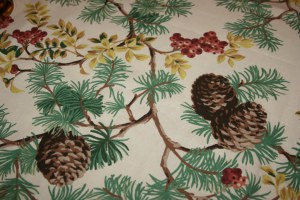 I found a few yards of this beauty next.  A vintage reproduction, it is heavy, non-wrinkling and reminds me of Minnesota, my husband's home state. I am not sure how I will use it.  I contemplated making cloth napkins, but I'm not sure I can stand to cut it up.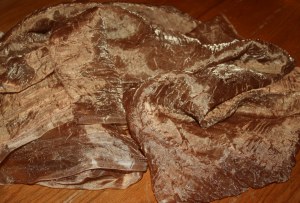 This piece of gold, shimmery, crinkly stuff should be a great accent.  Maybe swirled around some wooden pumpkins, maybe strips tied around candles?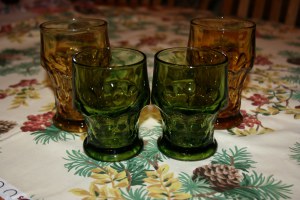 When I found these heavy duty glasses, I knew they had to come home with me.  A bit ironic to be buying
Harvest Gold
and Avocado Green since I HATED these colors when I first got married. All our early apartments had green stoves, but since I decorated mostly with red, I could always blend it in fine. My kids sometimes make fun of my love for vintage, but they are enjoying the feel and the color of these glasses.  They may end up loving vintage after all!  Maybe one of my kids will someday scour the internet looking for an avocado green stove.
I will be decorating with these.  Since I display them in my house all year 'round, I will just need to add more cinnamon oil to them and enjoy the holiday aroma.
As I plan for the upcoming holidays, I am not just thinking about linens and dishes. I am thinking about my heart attitude, my spiritual purpose and my ability to show Jesus to those that are in my home.
This is the true essence of hospitality.
Without love, which is Jesus, all the dishes and the linens would be in vain.  They are the least important.  It is just something to do to cover my nervousness and my excitement for the opportunity.
I am praying. I am praying that our hearts will be bound together and that I might bless them as the Lord guides my actions and my heart.
The best part of planning ahead, is that I have
216
more days to pray.
***********************
Speaking of Thanksgiving, I think it is about time to post the recipes my daughter, Grace, used for Thanksgiving last year.
Vermont Cheddar Mashed Yukon Golds
A Simple Method for Cooking a Whole Bird
Roasted Turkey with Tangerine Glaze
Any advice?  Any suggestions for the fabric?  Any new recipe recommendations?
Take your time in answering.
I have 216 days to plan and pray.