This was our beautiful view while driving home from the hospital yesterday.
The rainbow ended right on the interstate. We always tell our friends from the midwest that the rainbow ends in Washington, now we have proof.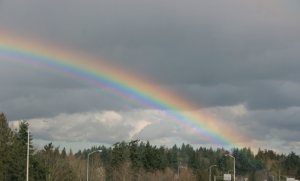 The colors were so vivid, we were amazed. We all have seen dozens of rainbows, but each time, don't we always shout, "Look, there's a rainbow!"
It's as if each rainbow is the first one we've ever seen.
This rainbow was always before us. We never caught up to it, it was always just ahead of us, reflecting the glory of the One who made the rainbow as a promise to the world.
It's leading presence gave us the sense of what is promised in Deuteronomy 1:30 "The LORD your God goes before you…"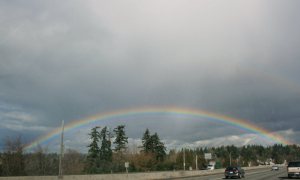 Our enthusiasm deepened as we viewed the entire rainbow – the beginning and the end.
We had been driving and contemplating my health situation,
sometimes talking,
sometimes silent.
The Lord doesn't speak to us with an audible voice,
but He does speak to us.
We heard that inaudible voice of comfort and nearness.
Genesis 28:15 "And, behold, I am with you, and will keep you, in all places,
where ever
you go."
From the beginning, to the end.