…your feet don't touch the floor.
I don't deal with the playground torment anymore.
Nobody calls me Short Stuff, Half-Pint, Shrimp, Tiny Tot, Runt, Baby, or Shorty.
Nobody  grabs my hat and holds it high above my head to taunt my jumping, reaching, little self.
Nobody bends over to look me in the eyes and asks, "How's the weather down there?"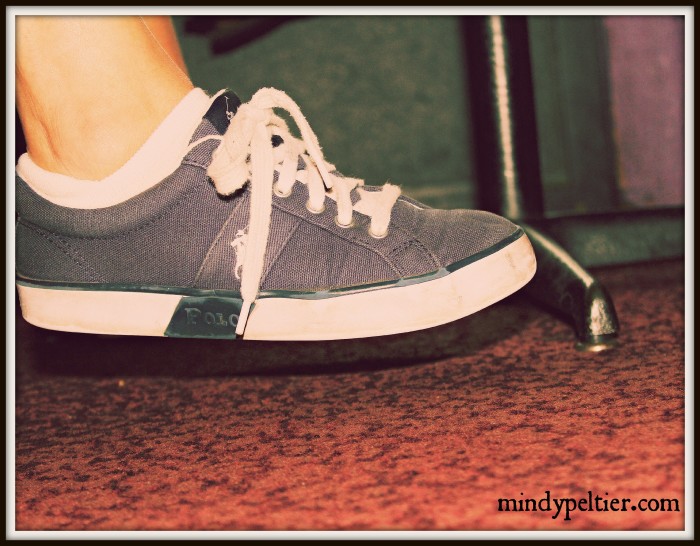 I never imaged there'd be problems after I outgrew the playground.
During those early years of  tremendous teasing,  I crossed my fingers and hoped I'd eventually grow. After all, there weren't any adults my height.
In 6th grade when  some of the first graders were taller than me, I knew I was destined for a lifetime of standing in the front row during choir concerts and group photos.
During most of high school years I was under 100 pounds and wore slim sizes, back in the day when girls' clothing only went up to 14.  I  remember my high school Physical Education teacher's astonishment over my  4 inch growth spurt in one year. She should have given me a medal or a trophy. Breaking 5 foot tall was a life-long ambition, and I knew I probably wouldn't do something that fantastic again for a long, long time.
I approached college with confidence, a mature adult who was 5 foot two and eyes of blue.
I knew I had it made, but I also knew what I saw at my eye level would be all I ever saw in life.
Even as an adult, life as a short person has its own challenges.
I'm the kid who never fit at the grown-up table, even though the big 5-0 is looming dangerously ahead.
It never fails. I'll accompany my hubby to an elegant company dinner, dressed up in my Trying Not To Look Like a Stay At Home Mommy (SAHM) Attire to feel like I'm a part of the grown-up world.
I learned to walk as if I own the world, so march in, my high heels staccotting my self-importance,  and follow the waiter to our table. I sit down, scootch my chair in, and feel my feet dangling helplessly above the floor.
But it's WORSER when I sit at a a booth. Yea I know that's not a word, but I had to get your attention in case you're losing interest in my blog post. The seats are too wide, so unless I sit forward on the edge of the wide bench my feet dangle like Lily Tomlin's Edith Ann.
THE WORSEST was being pregnant and sitting in a booth. My tummy grew straight out like a woman trying to steal a basketball from a sporting goods store, if I sat back to accommodate my tummy, my arms couldn't reach my plate. And, of course, my feet dangled.
I've learned tricks to survive.
I strategically choose a chair  where I can rest my feet on a table leg or cross beam. I wear the highest heels I can without tipping over or looking like the little girl sitting at the big peoples' table while wearing her mother's shoes.
We had traditional pews at our church until a few years ago. The wooden benches with  vintage gold  material were replaced with modern inter-locking chairs covered with a respectable blue fabric.  They were padded well and comfortable for those with back problems. I was sold on the modernization project until I sat down the first Sunday. You guessed it, my feet dangled just like my 9-year-old's. I fidgeted like crazy, then my legs turned numb, so I placed a few hymn books beneath my feet. I was stunned with my light bulb moment.  Is this why kids fidget so much Sunday mornings?
If I sit correctly at the piano bench on a Sunday morning, my feet don't touch the pedals of the ancient, upright piano.  I sit on the very edge of the bench and reach for the pedals.
I can't rest my foot on the floor of the car and press down the brake pedal, so can develop a leg cramp in nasty start-stop-start-stop traffic.
Couches, especially the modern, huge,  over-stuffed ones, are also uncomfortable. At home or at a friend's home, I tuck my feet under me instead of dangling them to numbness, or sit on the floor. If I have to sit with good manners, I choose the smallest piece of furniture in the room and hope my toes at least touch the floor enough to keep me from squiggling in discomfort like a toddler. Vintage furniture perfectly fits my style and my size.
I've learned to adapt, but I still think life might be a little easier…
…if only my feet could touch the floor.
It's hard to feel like a grown-up when your feet don't touch the floor.