It's hard to be a short girl.
It's even harder to feel like a grown-up when you're a short girl.
I can't reach anything.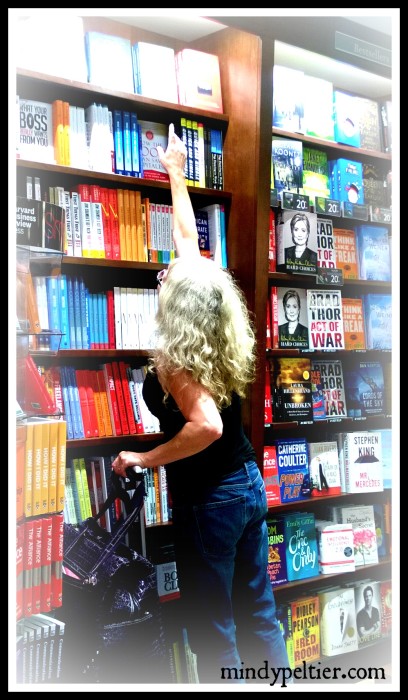 My friend Ilona gave me an unusual present at my bridal shower….an ornately painted wooden stool.
She smiled knowingly  at my puzzled look and said, "Just wait. You'll know what it's for."
Our first apartment was in an ancient high-ceilinged brick monstrosity whose carpet retained the smell of everything deep-fat fried for the past six decades. The vintage fridge had rounded edges and more chrome than our car. The porcelain kitchen sink was big enough to bathe in. The closet-sized kitchen had white wood cupboards with vintage glass door knobs. I was delighted they reached all the way to the ceiling, until I unpacked my new kitchen items.
I could reach the lower shelf on tip-toe, but not the second or third shelves. Then, the knowing look was mine as I remembered Ilona's shower gift. I used it to reach the second shelf, but anything above that level, I had to climb onto the counter like I've been doing since toddler-hood.
Grocery shopping as a newlywed was fun. I had my OWN budget and could buy my OWN groceries to plan my OWN meals for my OWN husband.
Only problem was, are ya' guessing already? I couldn't reach the top shelves of the grocery store. Wait, I couldn't reach the top shelves in ANY store.
I developed a short-person shopping strategy.

ASK A TALL PERSON FOR HELP. This is the most humiliating option. OK, it's cute when you're a kid, but as an adult fully-functional in all other areas, this can cause anxiety. A tall person blogged that he's insulted by this request, so I stopped asking. Hate to offend those blessed with the ability to shop without aid!

 CLIMB AND SWAT. It's dangerous to climb on the bottom shelf and swat the top-shelf item down. But, it works. Choose this option if the item isn't glass and isn't going to damage your head.

STAND ON CART. Obviously the most dangerous option is using a object with wheels as a stepladder, but sometimes a short person's gotta' do what a short person's gotta' do. Especially you can't reach standing on the bottom shelf. Be careful about what footwear you're styling when you choose this option.

USE A SWATTING TOOL. A clever Jane-Goodall-chimpanzee-move is to find a tool to use. I've used a spatula and a child's magic fairy wand, ya' know the one you can get at the Dollar Store or pay $8 for at the grocery store 'cuz you hope it really is magic enough to turn the whining child into a well-behaved child? As with options 2-3, don't use with a glass or brain-damaging item.

STORE LADDERS. The ladders in Home Depot say "for employees only" but I've been known to use them there's cranky help or no help. I also help myself to those long hooks to remove clothing from the display if employees aren't nearby.

TAKE HUBBY. Hubby is 5″10, but to me he's a giant. I stand on a step to kiss him comfortably, but maybe you don't want to know that. Maybe that step stool would work better than navigating to steps or standing on my toes until my calves cramp.
HEY! The stool!
You mean after 28 years of marriage I finally figured out what the stool was really for?
Oh, my.
It's hard to feel like a grown-up when you can't reach anything.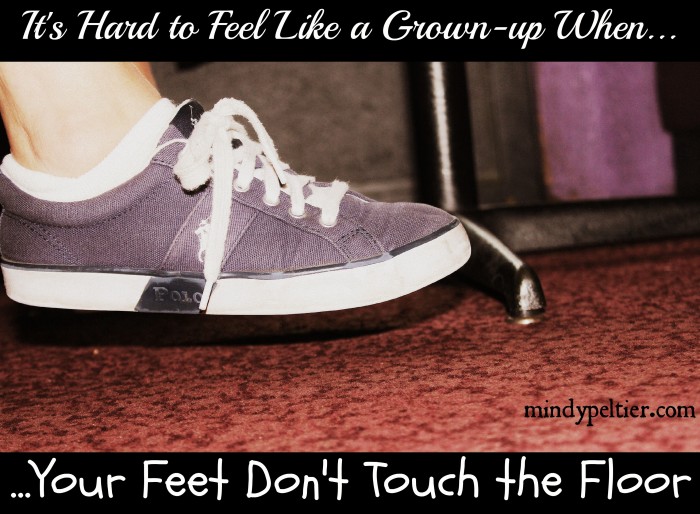 Read the first in the series, "It's Hard to Feel Like a Grown-up When Your Feet Don't Touch the Floor",  by clicking on the icon.