We drive life's highway with our eyes set on an ambition destination.
It might be a long-range goal, like a college degree, a particular job, or an award. It could concern a ministry or a relationship.
Others are consumed with short-range goals that are building towards a larger goal. Young moms might be fixated on getting a young child to sleep through the night or be potty trained. The college student needs a good grade on their next test. A cancer patient must endure the next chemo.
We fuel our ambitions with encouragements, education,  and experiences along the way.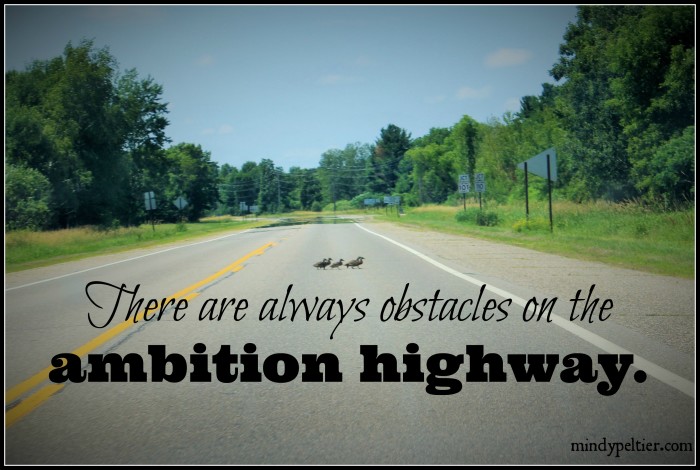 There are always obstacles are on the ambition highway.
Always.
Every time.
Without fail.
Invariably.
Expect it.
Any goal worth achieving is worth working for. It's worth crying over. It's worth waiting for. There are some obstacles we can move out of the road. There are some obstacles we can drive around.  Sometimes the obstacles, like serious illness, a move, or a baby, can divert our personal plans for a few years. Some obstacles bring delightful change and diversion, others are accepted and endured.
There are some obstacles that can slow our pace way, way, way down. The biggest set-back isn't the obstacles, it's our reaction to them.  We're surprised because we expected to speed down the road without pit stops and receive the glory gold.
We're upset when the route we mapped out is changed.
We're angry that our plans were overruled.
We forget we're not in charge.
Remember how you gave the Lord your life?  Your heart?  Your plans?  Your gifts?  Your abilities?  Your time? We didn't ask the Lord for a  stamp of approval on our plans, we gave Him our plans to accomplish in His time, in His way, and for His purposes.
Don't stop driving.
Don't let discouragement or lack of faith keep you from serving and striving.
Persevere.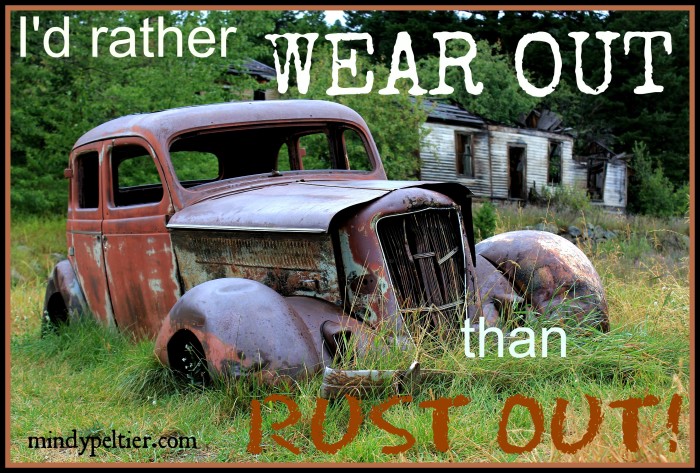 When you put your ambitions in park, decay will set in.
 It's better to be a junker on the road than a pile of junk next to the road.
Just
     Keep
          Driving!