This tantalizing plate was sitting on the kitchen counter.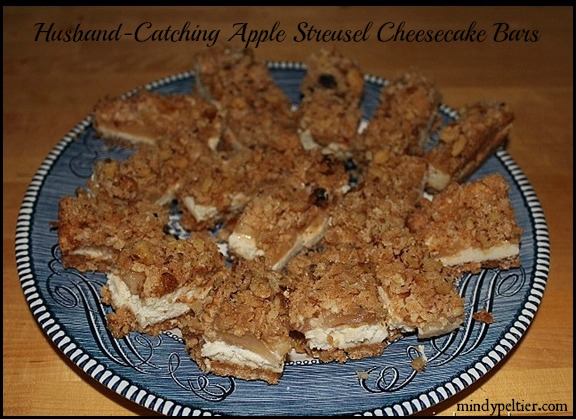 There wasn't a
"DO NOT EAT!" sign,
but the fancy plate indicated something was up.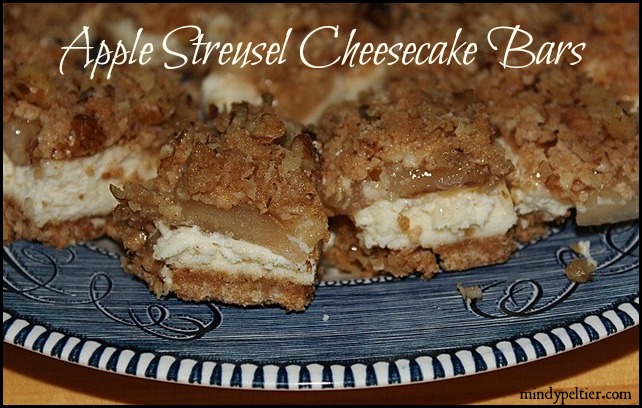 MMMM. 
Don't they look delish?
Can ya' smell the cinnamon?
OK, me neither, but if they ever get
Scratch 'N Sniff functionality for WordPress,
I am SO getting it!
As she walked away, my daughter joked they were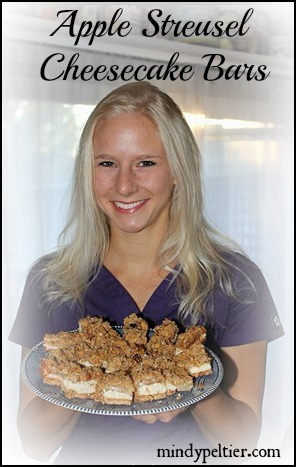 HUSBAND CATCHER BARS.
But, when she came back from Bible study
AND work
still single
I think she better go back to calling them….
(from General Mill's website)
Ingredients
1 pouch (1 lb 1.5 oz) Betty Crocker® oatmeal cookie mix

1/2 cup firm butter or margarine

2 packages (8 oz each) cream cheese, softened

2 tablespoons all-purpose flour

1 can (21 oz) apple pie filling

1/2 teaspoon ground cinnamon
Directions
 Heat oven to 350°F. Spray bottom and sides of 13×9-inch pan with cooking spray.

 Place cookie mix in large bowl. With pastry blender or fork, cut in butter until mixture is crumbly and coarse. Reserve 1 1/2 cups crumb mixture; press remaining crumbs in bottom of pan. Bake 10 minutes.

Meanwhile, in large bowl, beat cream cheese, sugar, flour, vanilla and egg with electric mixer on medium speed until smooth.

Spread cream cheese mixture evenly over partially baked crust. In medium bowl, mix pie filling and cinnamon. Spoon evenly over cream cheese mixture. Sprinkle reserved crumbs over top. Sprinkle with walnuts.

Bake 35 to 40 minutes longer or until light golden brown. Cool about 30 minutes. Refrigerate to chill, about 2 hours. For bars, cut into 6 rows by 4 rows. Store covered in refrigerator.