Having daughter$ is an expen$ive habit. We know. We have four. They need clothe$, $hoe$, make-up, clothe$, per$onal care item$, jean$, hair care product$ and gadget$, $hirts, finger-nail poli$he$ and gadget$, clothe$ and $hoe$. Once you buy one item on the li$t, it require$ $everal other item$ on the li$t to make a properly acce$orized outfit.
At the end of August I hosted a Clothing Exchange to facilitate saving money on back to school shopping. I felt this was a good way to encourage families during a stressful economic time and teach our daughters to be resourceful. Moms and daughters were invited to bring all the clothing, shoes, jewelry, hair accessories, belts and personal care items that they no longer needed, but were still in useable condition.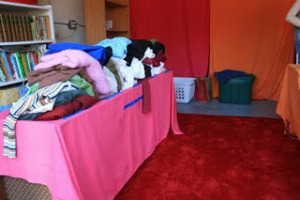 Prior to arrival I had to clean my garage. I hung brightly colored sheets to partition the garage and hide all the stuff I just shoved into the back. Using shelving, folding tables, and the air hockey table I marked spots to put things. Pants and shorts were sorted into sizes on shelves. Using blue tape marking S, M,L and XL, I marked places for sweaters and sweatshirts, short-sleeved shirts and long-sleeved shirts. Shoes went outside. Dresses hung between two ladders on a heavy dowel. Jewelry on a table. Hats and purses in laundry baskets.
I had three rooms ready with mirrors for them to use as dressing rooms.
I asked everyone to arrive at 1:30 to help set-up. We planned to begin shopping at 2:00, but we were done with set-up in about 15 minutes, because it was so organized. Participants said they easily found
bags
of items in closets they weren't using, including many items that still had the tags on them. (C'mon, most of us have at least
one
item hanging in our closet with the tags on them…..)
Anyone that couldn't arrive at the set time was invited to arrive whenever they could. Most of the girls hung around until 4pm, still trying on, accessorizing and enjoying their time together.
I had no requirement on how many items to bring or how many they could take. It was absolutely open. We had more items left over than we had imaged possible. Our only regret is that we hadn't planned to bring them to a women's shelter. We ended up dropping them off at a thrift store.
The moms sat and talked and the girls shopped and giggled and shopped and giggled and shopped.
Rebecca volunteered to model her new shirt. Aah, to have that 18 inch waist again.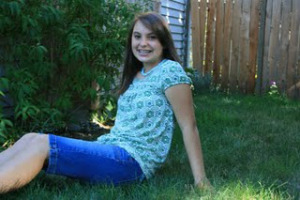 Rachel looked adorable in her new cotton knit baby doll shirt.
Grace kept us laughing with her "layered" looks. She just kept on putting on whatever she took a fancy to. That is a poodle skirt scrunched beneath a cotton summery dress. I'm pretty sure she won't be wearing this outfit to school…pretty sure….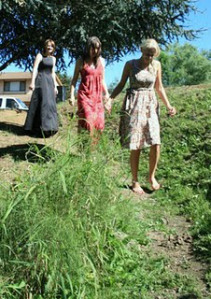 Grace, Melissa and Grace trudging gracefully down a dirt path for a photo shoot. A few days after this, I discovered that my lens was dead. So, the above blurry pics are the last hurrahs of a worn-out 18-55mm Canon lens.
It was such a success that we have tentatively planned to do this for moms only in January, when the holiday pigging out will make us all desperate for new, bigger clothes. We're toying with the idea of having a make-up representative come for a few make-overs and have a few trims offered from my daughter, Bethany.
We'll try another teen exchange in the spring. We've even dreamed about an exchange for Christmas decorations, home decor…..the possibilities are endless….
I was blessed watching teenage girls walk out of my garage with 1 to 3 bags of new-to-them clothing for the school year – at no charge. It was far more items than any of us would or could buy for our kids for back-to-school. The moms were blessed by having a few hours together to talk about parenting, leaning on the Lord, homeschooling, and sharing prayer requests. There are just some needs that don't have a price tag.