My daughter wants to be a cowgirl.  She dreams of owning a horse  and wearing cowboy boots with manure on them, instead of city-slicking fashion cowgirl boots tucked into skinny jeans. But, we live in town.  A big town.  A big town not zoned for horses.
She dreams about horses so much, one night she sleepwalked into our room looking for the barn to feed the horses.
.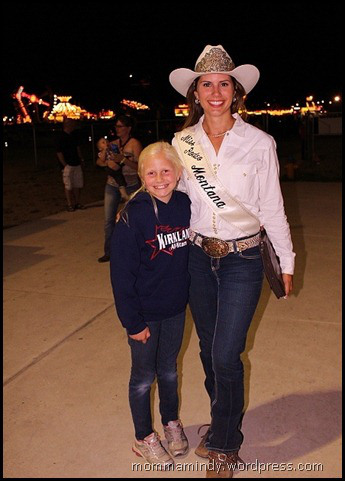 Meeting Miss Rodeo Montana last summer only fueled the dream.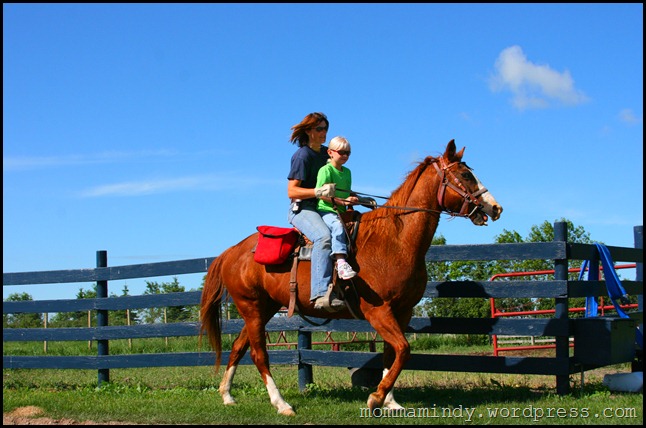 Visiting my friend high school friend, Janet, and her horses, didn't help either. 
Each summer we visited she petted, fed, rode and fell in love all over again. What's not to love? Chaz with her twins, Whiskey Girl and Wyoming on the North Dakota prairie. Even as a toddler, Beka walked under and around these hand-fed pets.
When my Cowgirl Wannabe' was planning her birthday party, we discovered early on it would be challenging to combine her loves if buying ready-made items. She wanted pink.  She wanted lace. She wanted vintage.  She wanted horses. Many things I found on the internet or in the stores were red/blue and geared towards cowboys. Since I've always been a DIY, homemade kinda' mom, we were up for the challenge.
When she found this beautiful calendar at the Dollar Store, I knew we could pull off the horse part easily and inexpensively.  On the back of each calendar was a page with smaller pictures of each month's pictures.

These were laminated and turned into magnets for each guests' goodie bag.
We hung the pictures from the grapevine garland that's along the fireplace year around and added twine.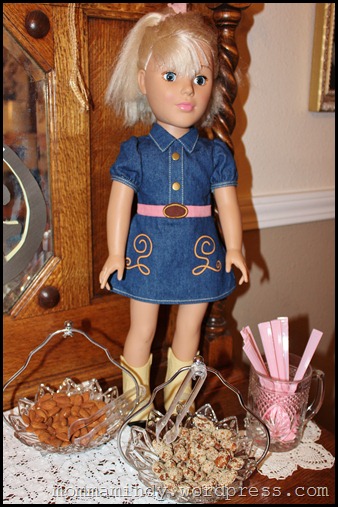 A doll was dressed in denim and cowboy boots and decorated the desert bar on the buffet.
We already had strips of fabric for a background from another birthday party, so we took out some colors and added strips of tan fabric and lengths of twine. The girls stood on a step stool for their picture.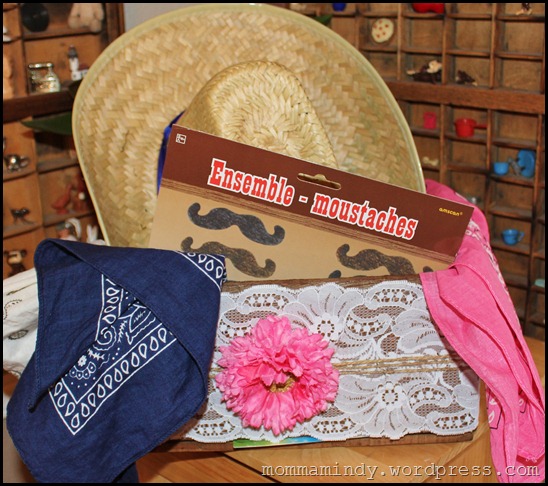 A wooden crate was decorated with lace, twine and a flower, then filled with props for the Cowgirl photo shoot. Pictures of each guest were emailed to them after the party. We printed off one picture for each girl and put it in a picture frame card for the thank you.
After being inspired by a summer project of serving from Focus on the Family, Beka decided instead of each girl bringing a gift for her, they would bring a gift or used clothing for the shelter for women and children.  We were thrilled to see the donations brought in.
Even grandson, Finnean, looked adorable in a mustache.
Glasses were pint jars and 1/2 pint milk bottles with strips of tan fabric previously used for vases at our writers conference last May.  Beka pulled off tan buttons and added some pink. She made a few out of lace just because.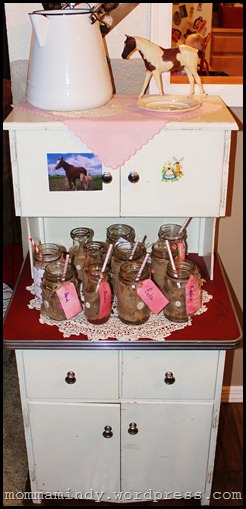 A drink station was staged on a child's cupboard.  The white enamel coffee pot held pink lemonade.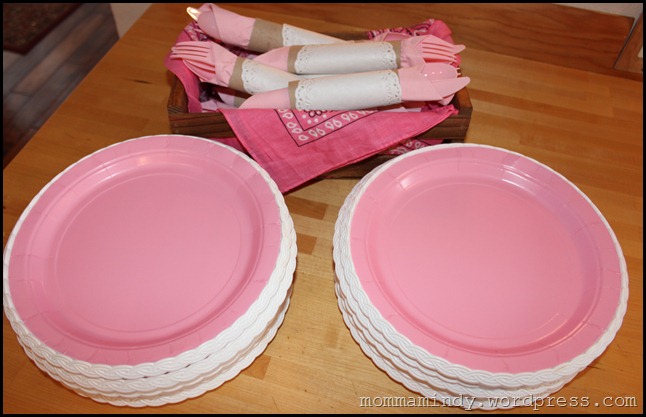 Pink plastic silverware was wrapped in brown paper and white doilies, which was Beka's creation. The pink paper plates looked adorable on vintage white paper plate holders.  The small crate was found at the thrift store for $.99 and stained to look aged. The meal was a sandwich bar, fresh fruit and veggies.  Simple. Healthy.  Adaptable to food allergies or strong dislikes.

A ladder in the dining room held the chips.
These "feed bags" are actually burlap rice bags. I removed the zippers, turned them inside out, and  hot-glued a doily on.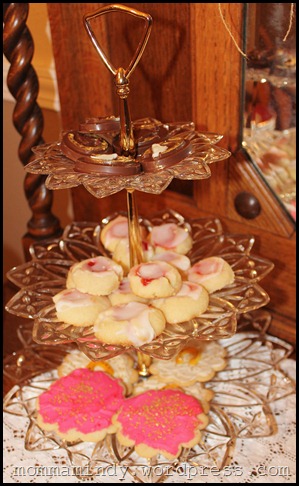 Beka didn't want cake, she wanted cookies and ice cream. To simplify feeding the girls, we purchased the small cups of strawberry swirl ice cream.
The sugar horse decorations were found at Dawn's Cake and Candy World. I can't give you the recipe for the sugar cookies, because the dough came in a tube. Sometimes a momma's gotta' do what a momma's got to do.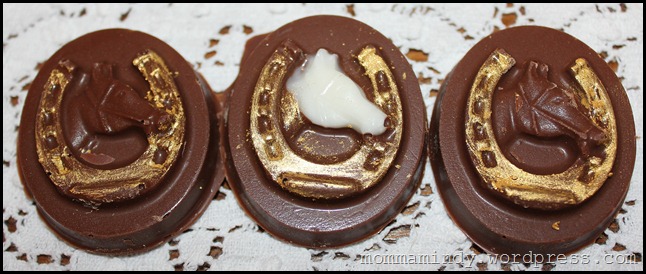 Since we had a hard time finding horse party items, we  also bought this horse mold at Dawn's for melting chocolate.  The gold is a fine edible powder that rubbed on easily.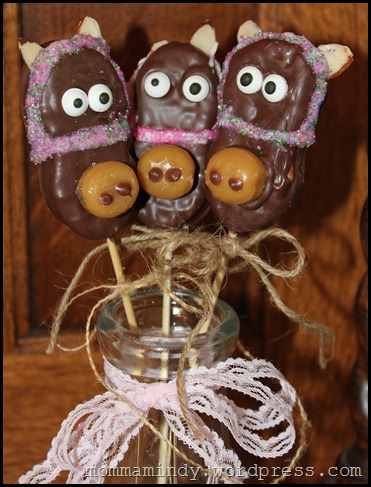 After seeing these on a blog, we knew this would be the one thing we HAD to make for the party.  These are Nutter Butter cookies dipped in chocolate, with Wilton candy eyes, almond ears and hard caramel noses.  Instead of cookie sticks, I used skewers because they matched our theme better, were thinner, and cheaper.
Since this was way too much sugar for one day, some horses were on display, the rest were tied up in clear bags and sent home in the girls' goodie bags.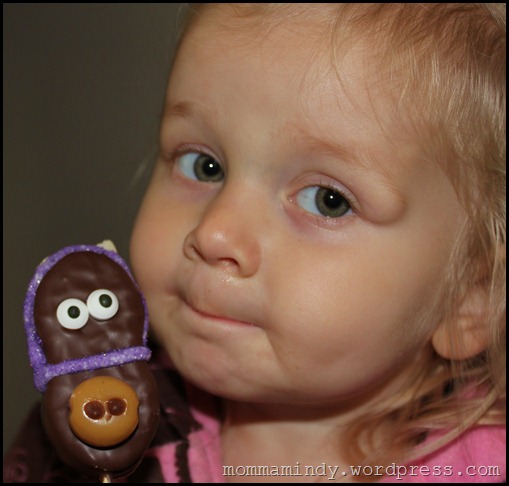 Granddaughter, Maddelyn, loved her little horsie.  She came with her mommy and siblings to help make them a few days before the party and had a hard time waiting until she could actually eat one.
Aunt Cindy's recipe has been a family favorite since Christmas of 1996, and  was the first cookie Beka baked for her party. 
At the end of the day, the City-Slickin' Cowgirl was very, very, happy, even without a horse in the backyard.
Raspberry Almond Shortbread Cookies
Cream together:
2/3 cup sugar
1 cup butter
1/2 teaspoon almond extract
Add:
2 cup flour
Chill dough if too soft.  Roll into balls and flatten slightly with a fingerprint hole in the middle. Fill the hole with seedless raspberry jam.  Bake at 350° 14-18 minutes, until edges are brown.  Do not over bake.
Drizzle glaze over baked cookies.
Glaze:
1 cup powdered sugar
1 1/2 teaspoon almond extract
2-3 teaspoons water