Like every other Sunday morning, I was trying to hurry and get ready so we wouldn't be late. Somehow, shuffling everybody through the bathrooms, finding all Lost Things and making everyone eat Something for Breakfast, is still a challenge after 23 years of experience.
So, when I noticed the blizzard outside my windows, (I use the term
facetiously
, I know you Minnesotans and North Dakotans are laughing at me), I had to figure out how to streamline my morning Getting-Ready Ritual so I could sneak outside and take pictures.
With my dress clothes on, my hair still dripping wet, I dashed out the front door, my high heels clicking on the maple flooring and down the front cedar stairs.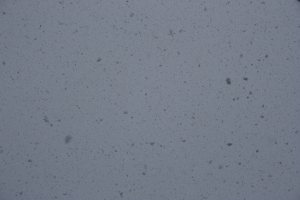 The flakes were
huge
.
It was as if the angels in heaven were having a pillow fight and all the pillows were breaking.
Last week Dippin' Dots were falling from the sky, this week, cotton batting.
And, yes, the neighbors might have seen me with my tongue hanging out,
trying to catch some of these babies on my tongue.
Each of these is an actual clump that fell together.
It almost seemed like I should be ducking.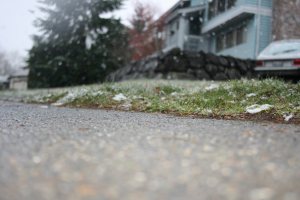 I wanted to lay on the ground and try to get a picture of the flakes reaching the earth.
Instead, I just set my camera on the ground.
I didn't have time to change, anyway.
The view from under the tree was stunning.
It's the same tree I climbed during the last storm.
Each flake hit the ground with a moist plop, stayed five seconds or less, then melted.
I think it was the first time I HEARD snow in my life.
The drive north was beautiful, and the traffic light.
I'm sure many were too terrified to drive.
And, yes, you have to live here to get THAT concept.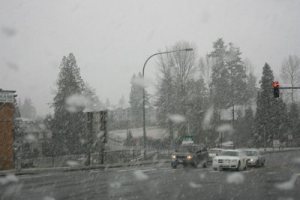 As always, the best part of a
blizzard
here in the PNW,
is that it only takes up a little bit of your time.
Maybe 15 to 30 minutes,
maybe a day, maybe two whole days.
This year, we actually had snow on the ground this year for nearly two weeks.
I didn't say a lot of snow,
I didn't say it really affected our lives,
but it did stay longer than normal.
If you really want to sympathize and give true awe where it should go, view the pics from my friend,
Jess
, surviving REAL blizzards in ND.
It will make you glad you don't live there.
You'll also be wondering how they are going to get their car out….