This year I was way behind for Christmas.
For the most part, I handled it fine.
I didn't even make lists, because I knew they wouldn't get done.
I didn't send out Christmas cards.
I didn't make gifts for the neighbors.
I didn't send gifts to my nieces and nephews.
I purposed to not focus on what I didn't get done,
and enjoy the things my time and energy allowed.
For years I had a list of cookies and candies I had to make
for it to FEEL like Christmas to me.
The kids and I spent hours in the kitchen happily
baking, frosting, sprinkling and licking the spoons.
As they got older, it became work because
they didn't enjoy it as much.
It was then I  realized it could still
FEEL Christmas without five kinds of cookies.
It could still FEEL Christmas without five kinds of candies.
Christmas will always happen,
whether you're ready or not,
and
attitude is more important than accomplishments.
This goes for life,
not just Christmas.
 "…whatever you do, do all to the glory of God."
Kids won't remember ALL the stuff you did,
but they'll  probably remember ALL the times you were
 frustrated and/or crabby.
Ouch.
This year I sought to have a good attitude,
because I didn't accomplish much.
I made one batch of candy.
ONE.
Count it.
One.
Your done counting already.
There ya' have it.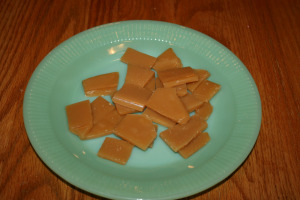 My personal favorite,
Old-Fashioned Butterscotch,
made with corn syrup,
even though I am wiping out corn syrup from every other food item in our home,
including ketchup and barbecue sauce.
I used regular corn syrup, not high fructose.
Not sure if there's really a difference,
of if they just fooled me with a marketing campaign.
Know what?
My brother Allan showed up with a quadruple batch of peanut brittle,
chocolate Rice Krispie bars and Spritz cookies.
My sister-in-law, Nita, showed up with a HUGE tray
with a delicious variety of cookies.
Gifts of food came from the office,
the neighbors,
my mom baked while here,
my daughter baked.
We had more than enough sweets.
But the best sweetness, was the family being together.
This goes for life,
not just Christmas.
Old Fashioned Butterscotch
2 cups sugar
1/4 cup light corn syrup
1/2 cup butter
2 Tablespoons water
2 Tablespoons white vinegar
Combine all the ingredients in a heavy saucepan and cook until on a high temperature until sugar dissolves and it begins to boil. Reduce heat to medium and continue to allow it to lightly boil.  It will bubble constantly, so you need to use a heat resistant rubber spatula to scrape the sides so sugar crystals don't form.
For stirring candy, I like to hold the edge of the pan with a pot holder, scrape the side of the pan, working my way around once or twice, then stir the mixture in a figure eight pattern.  Candy making takes patience and a lot of stirring.  I don't recommend trying to read, but maybe listening to music or a book on tape would be nice.
Cook until hard crack stage, which is 300-310degrees.  If you like a thermometer, fine, use it.  I love the water test.  You keep a little bowl of cold water on the stove.  When you think your syrup is ready, drop a small amount from a teaspoon into the water.  If it hardens in the water and makes a little crack (for those of you from ND think of the sound the ice makes when you are ice-fishing, but on a much quieter scale.)  If you are unsure, test a few times to make sure you hear the noise and see the threads.
Carefully pour the butterscotch into a cake pan.  The bigger the cake pan, the thinner the candy will be.  I use a 10×14, because I have a great aluminum one that I don't have to butter, just pour the candy in.  I don't spread to the edge of the pan, because I need room to work.
As it is cooling, use a knife or pizza cutter to score it.  If the lines go away too soon, it isn't cool enough.  Sometimes I just leave it and break it up, but then it gets kinda' jaggedy.
Here is a great tutorial on learning the stages of candy.  Knowing this will make your life so much easier, although you might end up eating way too much corn syrup!