People aren't always aware of how they affect others with their attitudes and actions.
I was standing in the line of a very crabby cashier at Wal-Mart. Usually the people were friendly and helpful, so I was surprised.
I was also a little offended.
After all, I fumed to myself, they get paid to work with customers. She HAS to be nice to the customers. But she wasn't.
I thought of a stinging remark to bring her to her senses, but the Lord put grace in my heart and tongue. He rebuked me before I could rebuke her.
Instead, when it was my turn, I smiled at her and asked her how her day was.
She almost started crying and told me she was leaving work early to go to a funeral. She had another one the next day. They were both unexpected deaths of people close to her.
I listened while she rang me up and spoke of the pain that caused the bitterness of her heart and mind. I told her I would pray for her and she reacted as if she wanted to hug me.
The Lord taught me something in dealing with Ms. Crabby Pants. There's usually a reason people are crabby, and I needed to be more graceful in finding that reason and help bear that burden. Hurting people hurt people.
Fast forward about several years.
I was driving down the street, extremely distracted. I accidentally made a left turn in front of a huge pickup truck when it was his turn to go.
It was one of those testosterone trucks, you know with the huge tires, the noisy muffler, the fog lights – all the bells and whistles a man embellishes with when he wears his testosterone on the outside.
It wasn't a close call, he'd barely touched his accelerator.  He just didn't get to go first. A mom in a minivan beat him through the intersection.
He reared his huge arms in fists and shook them at me. He honked and yelled furiously. If I had gotten out of my car, I'm pretty sure he would have hit me. It took him less than five seconds to go from idling to furious.
I had just experienced five seconds that affected my life, too.
My doctor had just said,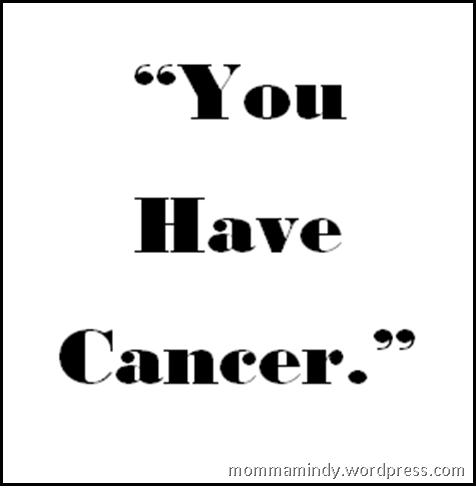 As this man abused me from the comfort of his testosterone truck, I sadly wondered if his reaction would have been different if he knew what I had just heard- a diagnosis of thyroid cancer – that I had a good reason to be a little distracted.
Probably not.
I was very thankful I hadn't hurt anybody, that it wasn't  a serious mistake, but it changed my view on other drivers.
Some are just jerks, no doubt.
But, you never know when someone  on the road driving stupid because
     ~they're driving to a funeral
     ~they just heard bad news
     ~had a medical issue.
Fill in the blanks.
Then fill your heart with grace, mercy and understanding.
Oh yea, and if they're pulling out in front of you, make sure you hit your breaks.
Then, instead of shaking your fists, pray for them. You just never know how you could affect them.