My daughter, Bethany and I, were taking a spring walk
with friends Lauren and Susan.
It was a glorious day with sunshine,
friendship,
fellowship,
and a surprise visit
with some friendly horses.
Everything in nature speaks of the Lord's
mighty power in Creation
and His mighty power in Redemption.
He is the Author of both.
Job challenged his friends with these questions:
Job 39: 19
Have you given the horse strength?
Have you clothed his neck with thunder?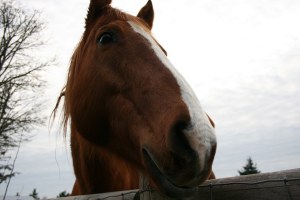 Job 39: 20
Can you frighten him like a locust?
His majestic snorting strikes terror.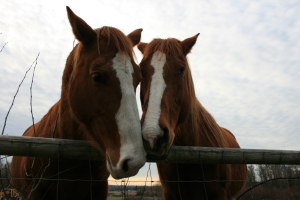 Horses are amazing creatures.
I asked these horses to kiss.
I really did.
And, they did.
I was astounded.
Isn't that sweet?
Psalm 20:7
Some trust in chariots, and some in horses;
But we will remember the name of the LORD our God.
Does this remind you of the Egyptians
chasing the children of Israel
with their chariots and horses?
They were swallowed up by the Red Sea.
But, there is one aspect in which the Lord doesn't want us to
appreciate and imitate horses.
They have to be trained to draw near to their master.
Psalm 32:8-10
I will instruct you and teach you in the way you should go;
I will guide you with My eye.
Do not be like the horse or like the mule,
Which have no understanding,
And must be harnessed with bit and bridle,
Or they will not come near you.
We draw near through Jesus.
Hebrews 10:22
Let us draw near with a true heart
in full assurance of faith,
having our hearts sprinkled from an evil conscience
and our bodies washed with pure water.
Next time you see a horse,
listen to the message its preaching.
It's a message of Creation
and of Redemption.