Years ago, I was in a barren place.
I was receiving Bible teaching that consisted of reprimands to an individual or the body and guilt-ridden rebukes for not conforming to a man-ordained  standard.
I clung to the Word, but craved Spirit-filled preaching from the Word. My heart longed to be changed by someone who had been in the presence of the Lord and could bring me into His presence as well.
[vimeo http://www.vimeo.com/19176750 w=400&h=300]
When Ann Graham Lotz came to town with her revival message, I had to go.
A hit-and-run victim on the narrow road,  this event  was my spiritual CPR.
I heard the Name of Jesus more in one hour than I'd heard in the previous few years.
She was accompanied by Fernando Ortega, who sang the theme song of the revival, "Give Me Jesus."
I didn't know at the time, that song would carry me through the next ten years of trials….
…living in five houses in 2 years,
having four teenagers at a time,
three bouts of cancer,
two divorces in my family,
and one miscarriage.
Many mornings I watched this video over and over on YouTube, emptying myself of doubts, fears and trials and re-filling with the Name of Jesus.
I also determined to never again let other believers or God allowed trials affect my joy and my faith.
Like David, I learned to encourage myself in the Word. I studied the Bible, listened to sermons on the radio, listened to good music, and invited others to our home Bible studies.
I didn't go to Fernando's concert just to admire him as an amazing artist, but to thank him for the ministry that carried me through ten years.
We  had the opportunity to meet him ahead of time and express our gratitude to him for impacting our family and for putting the Lord first in his music.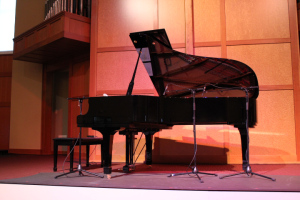 He was introduced, it was said well in the opening prayer, "We love this man's music because we love you and he turns our hearts to you."
Instead of standing on the people's admiration and praise for his music as a pedestal, Fernando pours it out as a drink offering and creates more worship  with his music.
When he walked on stage and began worshiping, he had no idea what I'd been through in the last week~ two deaths of very close friends and a jail sentence for The Innocent Man. When he played and sang, I felt like it was just for me. Sensing the mood of the crowd around me, I think everyone felt the same way.
[youtube http://www.youtube.com/watch?v=47iG_bH0-hk]
When he played Sleepless Night" I knew the Lord had given me the song for the next eight years.
Oh, I even got to sing with him. At one point, I dared to harmonize. It was amazing. Only problem, he probably couldn't hear me because I was singing along with the other  ticket holders.
Like Cinderella, we didn't want to hear the chiming of the clock.
When the ball ended, we had the encouragement, the rest and the joy we needed to go back into the fray of our individual walks.
He gave us Jesus.