Hubby, fondly known as Mr. P,  and I are misplaced Rednecks, adjusting to the life of city-slickers.
We're learning to enjoy best of both worlds, so I coined the phrase City-Slickin' Rednecks. City-slicking life has  traffic, horn-honking commutes and a  rapid pace. It takes a lot of energy to live in the city.  Some find it exhilarating.  I find it exhausting.
We look for ways to unwind at the end of long days.
We dig deep into our Redneck roots to find ways to stay relaxed while surviving and thriving the city-slickin' life. You might remember fire relaxes our family.  So does food.
I toldja' how to make a Redneck Breakfast.
So food AND fire is a sure-fire way to unwind after work in the backyard area we've nicknamed the Redneck Grill.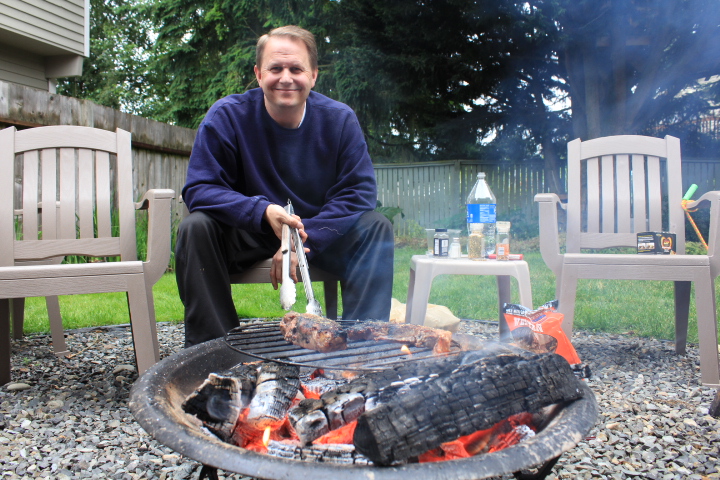 Especially when the chef is so good-lookin'.  He's cookin' and smilin'. I sat and read a book. I was smilin' 'cuz I didn't have to make dinner.
Beef.  It's what's for dinner if Mr. P is cookin'. Scott has perfected grilling over charcoal and  wood coal fire so he cooks steaks medium rare to perfection, testing by only touching the steak with his fork.
He's amazing.
Because I've finally convinced my husband that steak alone isn't a meal and that potato chips do not count as a vegetable, we had a salad. We even bring this salad to baseball games with pre-cooked chicken when  we're tired of either being hungry or don't want to eat  another hamburger grilled in lard.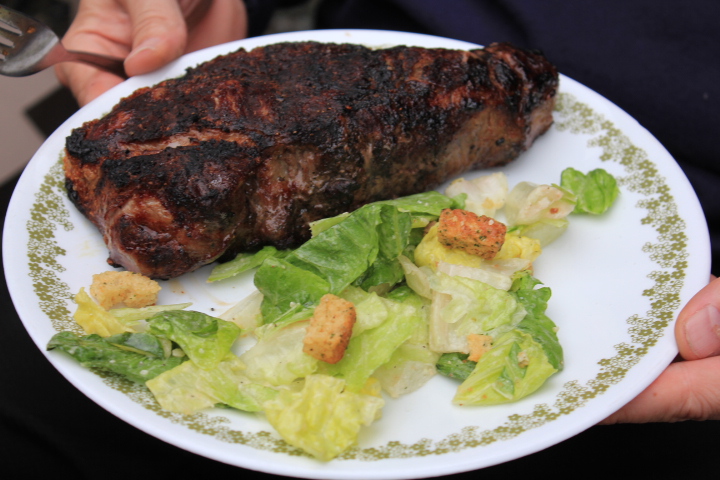 The final product.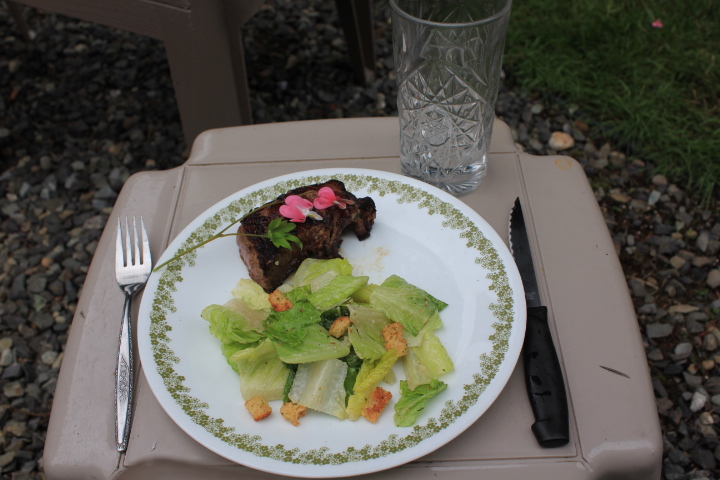 Outdoor dining at it's finest. Yes, that embellishment is a Bleeding Heart.
No, I didn't eat it.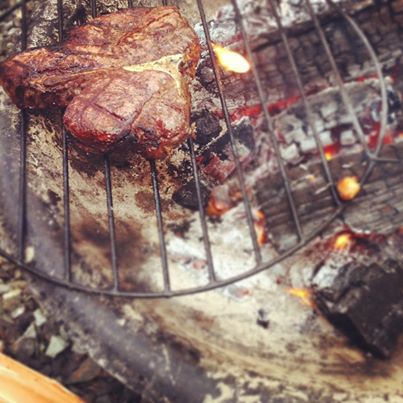 Another night we grilled outside, this picture was labeled, "Having a Cow." Yea, totally having a cow.
I can't believe he ate the whole thing.
Wait, yes I can!
When life is fast and furious, you have to learn to unwind. But if we only sought physical relaxation, we would still be lacking. The Lord Jesus patterned for us the way to  unwind.
*
Matthew 14:23

"And when he had sent the multitudes away,
he went up into a mountain apart to pray:
and when the evening was come, he was there alone."

*
I've heard the saying,
"If you don't come apart,
you're going to come apart."
We need to come apart from the busyness of our lives, but come into  the presence of the Lord.
Don't just feast on beef, feast on the Word of God.
It's what's for dinner.