While flying frantically through your busy life, it's possible to organize your life and responsibilities with tote bags.
Tote bags??
I can hear you questioning my wisdom.
Tote bags are the answer to the always-late, forgot-something, don't-have-a-pen-or-tissue syndrome busy women have?
Yes, tote bags. My husband lovingly calls me
The Ol' Bag Lady 
partly in jest of being an Ol' Bag,  partly because of my love for using bags.
I'm a  homeschooling mom, teach Sunday school, and am involved in a homeschool coop. I've discovered that instead of having one tote bag that I forget to unpack or repack, it's easier to have one bag for each activity.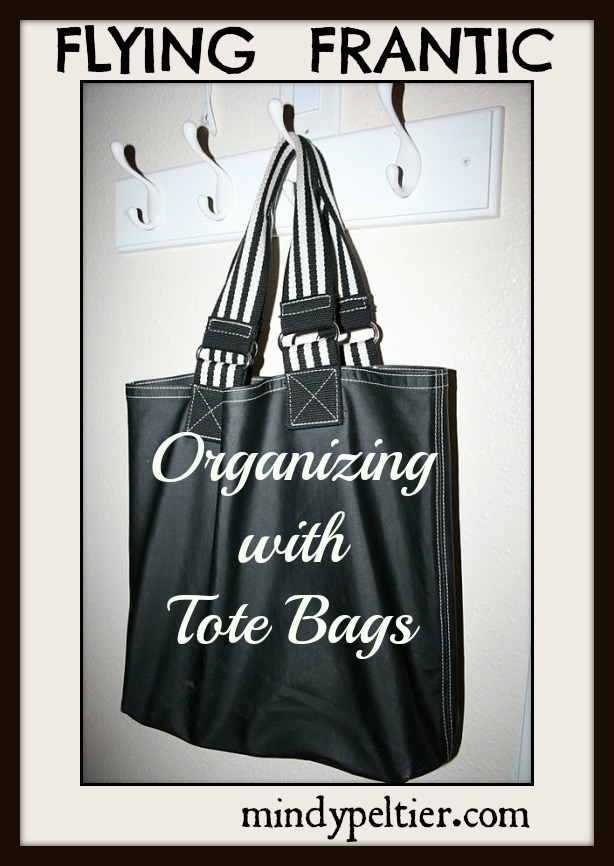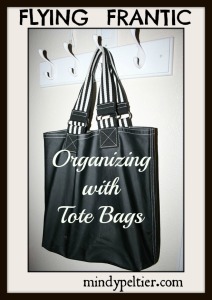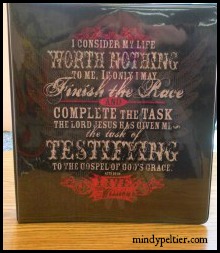 the binder I need with all the information in clear sheet protectors,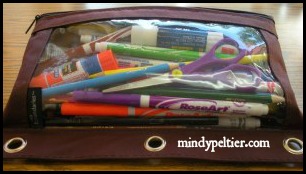 and a zippered pouch filled with school supplies. They are 
never
leave this bag, except during coop. You know, I'll telling my KIDS this, not you, right? I might toss in a book, a game to play or a
purse project

. 
 Anything I need to bring, I slip it in during the week.
Throughout the week, I fill it with things I need to bring to the church. A book to return to someone, sanitizers for the foyer, Gospel  tracts I ordered, Sunday school treats, prizes or craft items. On Sunday morning it eliminates the frantic rush, helping us to get to church on time
AND in the Spirit.
My
camera bag
is also stocked.
The right pocket has personal items, the front pocket paper items, and left pocket camera supplies.
 I can leave the purse, throw my wallet in my camera bag, and I am ready to hike, sightsee or just stalk my children.
Even though it isn't a bag, this
errand basket
organizes my life.
When Woolworths in Wichita, KS went out of business, I bought a stack of these beauties for $1 each. They are some of my prize possessions.
I keep it by the door and add:
returns that need to be made
long overdue library book found under the couch
packages that need to be mailed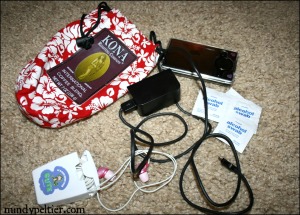 I even have a special
Zune bag
from Hawaii.
The bag originally came with coffee, but is perfect for my Zune and accessories.
Yes, I made the container for my ear phones from a dental floss box. Remove label and the guts, add a monkey sticker, and it is a cute little thing ready to hold treasures.
During their younger years, each of our kids had a
library bag
. My husband mounted a peg shelf at their level, so they could return their bag of books to the peg shelf. It kept books from being lost and  made it easier to return the books. A clear pocket on the outside would have been a great idea for the checkout slip.
As I begin to organize things to bring or send to someone, I begin a brown paper bag in the closet with their name printed in black, bold letters. As things are purchased, found or finished, they are put into the bag. If it is to be mailed, I might even pick out the box ahead of time and put that in the closet labeled. When it is full, it is mailed.
My youngest keeps a toy bag packed in the van. She is encouraged to keep a few toys, books, personal items, water bottle, and a snack. Living in a busy area, one accident on the highway and your commute home just got 29 minutes longer. Baseball season is here, and games can get long for the little ones.
Now that it is baseball season I have a baseball bag. Because it can be chilly, I keep a fleece blanket, extra hats and gloves, handwarmers,  snacks, and kleenex.
Just for fun, I looked up bag in the Bible.
Didja' know David organized his five smooth stones  in a shepherd's bag? 1 Samuel 17:40
The best use I found for a bag yet was in the book of Job.
My transgression is sealed up in a bag,

And You cover my iniquity.
Another good reason for my hubby to call me The Ol' Bag Lady.