Once in awhile,
my family gets tired of being stalked
wherever they go,
whatever they're doing,
whoever they're with,
and being blinded by my camera flash.
In retaliation they pick up my camera
and starting shooting me.
Sometimes my husband picks up the camera
just because he wants a picture of me.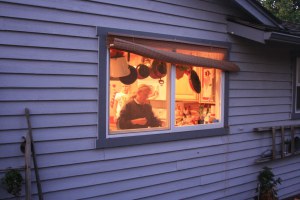 This picture caught me off guard.
This is what people see when they look on in my life.
Slightly disorganized,
slightly frazzled,
always near children.
I love the kids part,
but would like to ditch the disorganized and frazzled part.
This picture also made me take action in my kitchen.
Kettles are now in the drawer of the stove.
I hung up vintage red and white coffee pots instead.
Knives are off the counter.
I threw away a few things,
moved more things off the counters
and everything off the window sill.
Sometimes, something can be out of place
SO LONG,
you don't even notice anymore.
You stare through it,
walk by it,
because it unintentionally
became a part of your life.
Until someone takes a picture,
from the outside,
looking in.
My kitchen is just like my life.
It is so easy to look in from the outside and know what's wrong.
It is much harder to be discerning in the midst of the fray.
We need friends who can look through the window of our heart,
and show us what needs to be
removed,
cleaned,
rearranged,
or just thrown out.
That's a true friend.
One who loves you enough
to tell you what they are really seeing,
when they take a closer peak inside.
Faithful are the wounds of a friend,
But the kisses of an enemy are deceitful.

My best friend is my husband, Scott.
We continually marvel at the goodness of the Lord
in giving us 24 years together so far,
to provoke one another to
love and good deeds.
Sometimes a little more provoking than good deeds,
but we are still growing.
I also have been blessed
to have several close sisters in the Lord
that look through my heart window,
and clean house.
Do you have a friend like that?
Do you have someone who will speak the truth in love?