Two years ago God saved the Queen.  Not the Queen of England, The Queen of Brussels Sprouts, a friend I met through the Internet.
I've heard people question, "Can online friends be real friends?"  They doubt the validity and depth of a cyber relationship. Not me. I know online friends can be real friends. As a stay-at-home, homeschooling mom, I spend a lot of time at home.  A lot. A lot. A lot. A lot. I love the life I chose, but friendships are challenging when you don't leave your home often, and when you do, it's usually with the kids.
Blogging became my outlet, ministry, and a way to make friends with incredible women around the world.  While blog-hopping, I met a zealous Christian homeschooling mom named Kendra.  She was a good cook.  In fact, such a good cook, she coaxed her four young kids to eat Brussels sprouts and earned her crown and blog title. I'm the total opposite of a "foodie", but her recipes make me think, "I could make that!"
A diehard spirit, she followed her Army husband to each adventure with enthusiasm and determination.  She  blogged her way to Alaska, where she began her quest for the best wool socks for -40degree weather, the easiest way to split firewood, and the best recipes for moose. As she followed him, I followed her.
Then, she disappeared.  A few months later, I found her through CaringBridge and was devastated to learn she'd suffered 12 strokes and almost died twice. Her husband took up where she left off, journaling through her recovery as she relearned basic skills like walking, talking, and eating solid foods. I can still barely tolerate thinking about the suffering she endured for months in the hospital.
When she was home and able to communicate again, we continued our relationship. She'd already prayed me through thyroid cancer and when the Innocent Man was sentenced to prison, and she continued praying diligently for the burdens I confided.  I prayed and cheered as she gained back her life one small victory at a time. She had to relearn every daily function, including how to clip her fingernails, fasten her clothes, cut her  meat, scratch an itch, and upload photos.
We especially cheered each other on to trust the Lord. No matter what. In all things. In all trials. To accept what the Lord allowed in our life and still rejoice that He is God and He is good.

We'd never met, but our hearts were knit together. We had no secrets.
This summer the Queen took her first solo trip out of Alaska, not in a Life Flight helicopter, to visit me.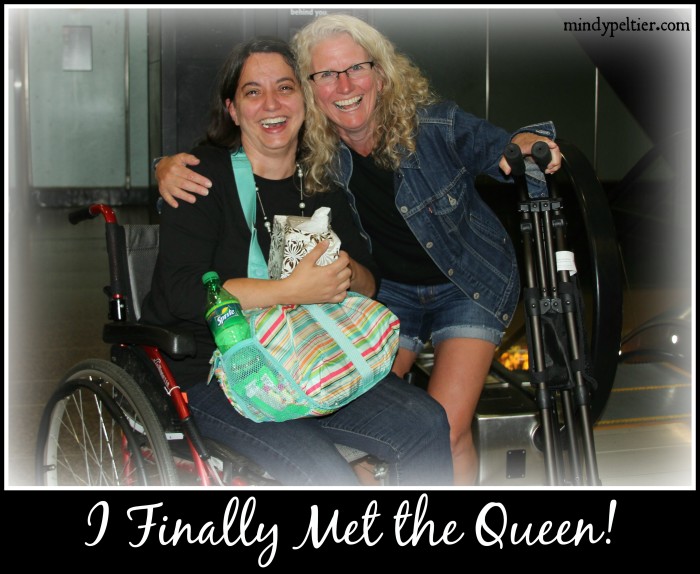 How do you describe a physical meeting when the hearts and minds have been bonded together for years? I came prepared with a box of tissue since we're both criers.  Both medically enhanced criers, but criers nonetheless.
Not that I needed affirmation, but we joked together that YES!  Internet friends are real friends. We were especially thrilled that our daughters bonded in person as quickly as we had through the Internet.
(click on picture for the recipe)
Prior to her visit she learned my #3 daughter was moving to New York for college, so she created and tested recipes for  an elaborate apple-themed meal to celebrate with our family and friends. She wheeled around in my spice-less, gadget-less kitchen, laughing at the sparseness of a woman who prefers take-out to take-out-of-the-oven, and filled my kitchen with laugher and smells that filled my heart with gratitude.
As our party gathered around her on the deck that night,  I was able to hear, in person, the miraculous story of how Kendra was lying in a hospital bed, listening to the doctors debate her case, and heard one urging to "just pull the feeding tube." Immobile, she couldn't speak and couldn't respond in any way, but the heartless and ignorant comment motivated her to fight for herself and for others in the same position. 
After her ticket was purchased, I scoped out handicapped accessible spots to give her a taste of the beautiful Washington scenery. I was especially excited to show her Juanita Beach Park on beautiful Lake Washington. It had handicapped parking and smooth, wide sidewalks so we could roll right down to the sand.  It was a beautiful day, we had lunches and Starbucks, what more could we want?  Oh, yea, because of coffee, a bathroom. Wouldn't you know, the bathroom wasn't handicapped accessible? I was so upset and tried to find an employee that would have sympathy or a solution.  We found neither. It was the first taste I really had of Kendra's daily life in a wheelchair. The legislation for handicapped rights must be implemented to benefit. We left the park after less than an hour. Read Kendra's account of her trip to Juanita Beach Park.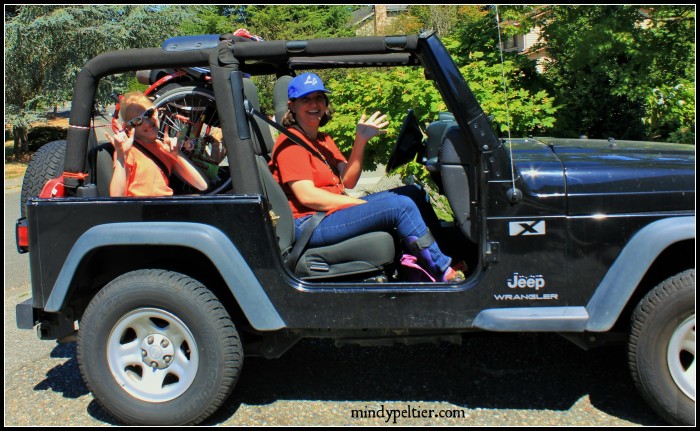 With the exceptionally sunny and hot weather, the top and doors were off the Jeep all week.  The wheelchair was carefully crammed between the two girls in the backseat and tied down to the roll bar.  We cruised the area, not caring that the wind whipped our hair.
Why would you go to Target when you're on vacation?  When you live in North Pole, Alaska, and the nearest Target is 386 miles away. Through the Alaskan wilderness. With no bathroom stops along the way.
How do you reward your sweet oldest daughter, Hope, who has been a tremendous help and caretaker for the past two years? A trip to the nearest American Girl store, which is only 2258.78 miles from North Pole. It was more than just a shopping trip. It was a celebration of daughters who have risen to the task of having health-challenged mothers. It's humbling to have to ask a child for help, and Kendra has been so blessed by her husband and children through her strokes and recovery.
The best part of the trip was starting the morning with coffee and a chat and ending each day with a talk-a-thon. It was so encouraging to hear the stories in person we'd shared through email and blogging. We both experienced spiritual break-throughs as we encouraged one another in the faith. Kendra wrote a beautiful account of our conversation, reminding how the Lord uses broken things, including her body.
I rejoice that God saved the Queen.
But I have to admit that part of my rejoicing is selfish, because when He saved her life, He saved our friendship.

Two are better than one,
because they have a good return for their work: 

If one falls down, his friend can help him up.
But pity the man who falls and has no one to help him up!