Beautifully Montana Mommy Deer
Doe, a deer, a female deer.
I love the sagebrush, too.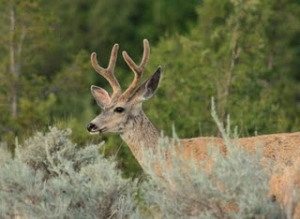 Handsome Daddy Deer
That's a four-point BUCK!
Can you count to four?
I could see the velvet on the antlers.
Amazing.
Confident that I was non-threatening, he began grooming himself.
I HEARD him do this.
What a totally male thing to do.
I know deer know when it is hunting season,
but how did he know I didn't have a license to carry a concealed weapon?
Mommy and Daddy had twins.
While I was photographying Daddy, the first buck I have seen around the parents' cabin in years, the twins were scamping behind me making their meepy noises.
I will never tire of marveling at their beauty.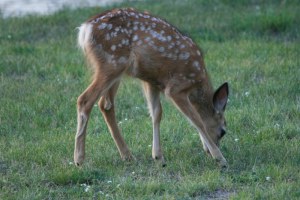 Cuter than Bambi.
During the week I tried to get pics of them coming down to the lake for water, but I never could catch that action. But, it made me think about this passage in Psalm 42.
1. As the deer pants for streams of water,
so my soul pants for you, O God.
2. My soul thirsts for God, for the living God.
What have you recently experienced in creation that caused YOU to worship the Creator?