It's easy to lose yourself in the moment…
…and not in a good way.
Women can get SO consumed with the necessary details of
we forget to enjoy the moment of
The impact of the occasion can be swept away in a flurry of
lists,
errands,
and
obligations.
I had been spray-painting frames and easels black,
trying to find clear punch ladles,
packing up punch bowls and serving dishes,
and taking care of a bajillion other details.
After months of committee meetings,
mountains of lists,
streams of deadlines,
and flurries of planning,
the Big Day finally arrived.
I was getting so consumed with the ecessary details of
I was forgetting to enjoy the moment of
All the
preparations
were to
celebrate
our fourth daughter's homeschool graduation.
When I paused to celebrate,
I also paused to cry, remembering my Graduation,
the classmates I've lost since then and
the years that passed too quickly with my own children.
The years seem like a blur,
I hardly remember Grace's first grade year.
But, she reads well, can count money, and color in the lines,
so I must have done something right in the past twelve years.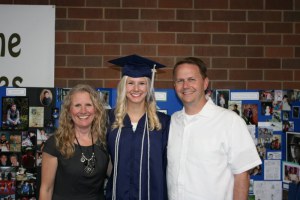 In our homeschool ceremony,
the parents cross the stage to give their children their diploma.
When Beth and Dan graduated in 2007,
I didn't think about going onstage in front of hundreds of people,
until I was trying to find something to wear Graduation morning.
I didn't find anything nice. I felt frumpy.
This Graduation, dresses were the first thing Grace and I bought
while planning for the special day.
Mommy likes having someone around who also loves history,
is a neat-freak, and loves cooking.
Why cook when your daughter's food is better?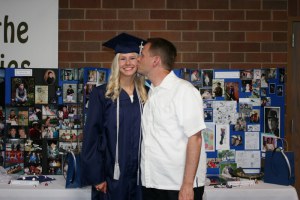 Daddy likes having someone around to nag him about diet and exercise,
and take his blood pressure on a regular basis.
Grace has already finished one year of college,
so will graduate again next year with an AA as a Medical Assistant.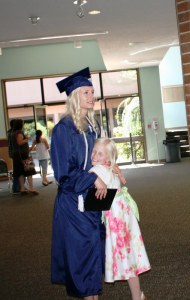 Little sister reacts with obvious excitement.
After sitting through the long ceremony,
she knew she'd be rewarded with a nice, sugary piece of cake.
Beka's not too happy with the thought of another sibling
moving out someday, so we're thankful Grace will be around
for at least another year.
The most amazing thing about Grace?
She was named after the grace of God and this is
the life verse we chose for her at birth.
Titus 2:11
"For the grace of God
that brings salvation
has appeared
to all men"
We have prayed that our Amazing Grace,
would desire to bring this amazing grace of God,
to all men.
With a desire to become a medical missionary,
I would say the turning of the tassel,
is just another step in the right direction
of fulfilling her namesake.
"Cuz that's