In my last blog post I admitted I'm a liar.
I explained Why I Lie.
You learn to keep people lying to you, even though you might lie to them.
It' all about that obligatory question,
"How are you?"
Years ago, I watched my husband on a Sunday morning. He loves people and honestly cares how they're doing. He remembers things people say and follows up. Sunday wasn't just about remembering the Lord's death and hearing a good message, it was about connecting with people.
He greeted a woman we both love and respect. Scott shook her hand and said, "How are you doing?"
Without making eye contact, she answered, "I'm fine."
Unwilling to release her hand, I watched him use his other hand to enclose hers gently, look her in the eyes and say, "No, I mean it, how you REALLY doing?"
His honest kindness unleashed the tears she had been holding in and she answered. Honestly.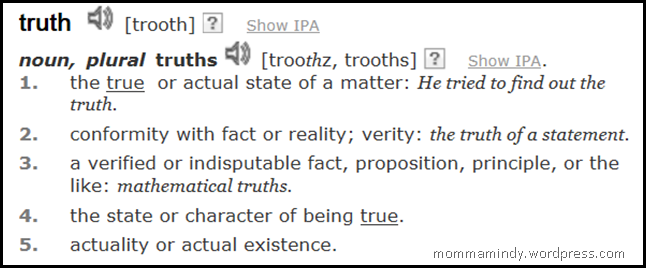 (snipped from Dictionary.com)
Use a combination of
body language AND words.
1. Maintain eye-contact when you ask and listen to their answer.
2. After they answer FINE, ask a follow-up question, especially if you know specifics in their life.
"So, how was that last chemo?"
"Has your baby slept through the night yet, or are you still getting up 2-3 times?
"Is the new medication working?"
3. Prove you can be trusted with the truth
Reassure them you won't repeat what they confide.
4. Don't jump in too soon with personal anecdote or advice.
If you jump in too soon, they will never finish telling their story.
They end up listening, not talking.
.
You keep people from lying by you by proving you
want to hear their truth
and
can be trusted with their truth.