I write scenes in my head.
Constantly.
Situations in my life becomes a scene in a novel or a play. Anybody or anything is candidate for the next Scene in My Head.
People walking by aren't pedestrians, they're characters.
A man in the grocery store isn't shopping, he's undercover.
A kid that walks by with a forlorn look isn't tired, but is running away from abuse.
I can take a real life scenario in front of me and turn it into fiction so quickly, I make myself cry.
Here's a perfect example.
I was at a writer's retreat, alone in my own cabin. I never could decide if the aloneness was "pure deliciousness" as my teens would say, or too much desert.  I love my hubby and kids and being alone was, well, very alone.
But, I was there, alone,  writing at the dining room table.  Writing.  Writing. Writing.
The curtains were closed for privacy, but a fall storm was setting the perfect scene outside.  Try describing this thunder and lightening, branches scratching my trailer kinda' cold fall night without opening up your cliché drawer.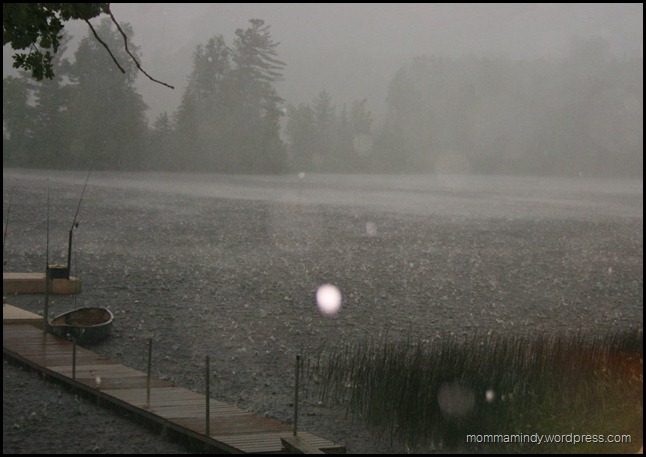 Ya' know, the kinda' storm that would muffle out screams?
The kinda' storm where a tree could drop on my Jeep and I couldn't drive away to safety?
The kinda' storm that normal people don't go out in?
Then, a moment of panic.
The curtains behind the couch moved.
Then they moved again, the fabric lightly bellowed with an upward motion, in rhythm with a mechanical whirr, parting  the panels slightly.
With frightened fascination I embellished the scene.
Was there enough room behind the couch for a man to fit? Would he have a weapon?  Would someone hear screams despite the weather?  Could a help signal be flashed?
I wasn't thinking what I should do. I created a character and wondered what she would do.
But having enough reality to know I should ensure my own safety, I walked around the trailer and checked doors and windows.  I didn't want to get stuff wet and wanted to be sure I would stay alone in the Bad-Guys-Are-Out-There-Storm.
I was SURE I had locked both doors securely, but found the back door not only unlocked, but opened just a teensy tiny bit. The door was shut, but not latched, so easily could have been pushed open. My character and I I checked in the closets and  the bathtub. Both were empty.
When the  tension and drama in my "scene" were high, along with my heart rate,  I managed to locate my cell phone and call my hubby.
We laughed.
He's getting used to being married to a writer. He let me replay the scene in my mind as if he were reading a page from my book, then we said our I love yous and good nights.
I went back to writing at the formica table.
The curtains behind the couch moved.
A  person might really be hiding there…