A kid's definition of summer is "the season  where I sleep in and don't have any schoolwork."
A mom's definition of summer is "the season where the kids hang around the house whining because there's nothing to do."
The lack of structure quickly loses its thrill after a week or two, and moms begin hearing the fingernails-on-chalkboard whine, "Mom, I'm bored!"   This complaint ranked on my list of five "Things That Aren't Music to a Mommy's Ears."
For years I battled  boredom by making my kids write a Summer List of exciting things they could do instead of complaining. They could put anything on their list -  foods to eat, activities to do, places to go or crafts to make.  (Click on the link to see the now-vintage lists.)

My goal was to teach my children to replace the word "bored" with "busy" by becoming self-entertaining and creative.
Focus on the Family recently revealed their Adventures in Odyssey summer challenge for kids, but it challenged my heart as a parent.  Instead of focusing on WHAT, they want kids to think about  WHO. They're defining summer as "the season where you spend time serving others for Jesus."
Even though I've been parenting 26 years, I mentally did the "DUH" forehead slap.
Parents are rarely bored, because our hands and hearts are busy serving. We fill our days and nights helping others  be happy, healthy and encouraged.
If we honestly define boredom, it's a form of  selfishness.  You can't think of anything to satisfy or gratify yourself.  A quick cure is to turn your attention to others.  It isn't  enough to teach our kids to entertain themselves, we need to teach them to see and meet needs in others.
The familiar friends from Adventures in Odyssey want to spend the summer with our kids challenging them to serve through a program called
A – A
C – Call
T – To
S – Service
The theme is , "When you serve, everybody wins."  Kids to show and grow in their faith in Christ by using their talents and skills to serve  their families,  communities, and the world.
1. Your child commits to record 12 hours of service on the Path to Service form. Pick up form at your local Family Christian Bookstore or download here. (Participating bookstores provide Adventures in Odyssey character stickers for each hour served.)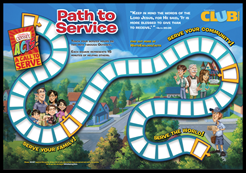 Put it in a place you won't lose it or forget where you put it.  I know, that can be challenging, especially if there's a dog, small children, or  forgetful older mothers….now what was I saying?
2. Download and listen to this special Adventures in Odyssey episode "Lost & Found." It will get your kids revved up to serve.
It will also give you twenty minutes to sneak off by yourself and have your devotions, drink a cup of coffee and sneak chocolate from your secret Mommy Stash. (I know you have one!)   Remember to gargle before the AIO episode is over.  Kids always smell chocolate on your breath and then your stash won't be a secret anymore.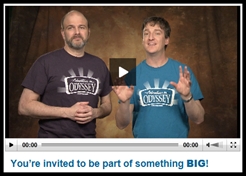 If you need a few more minutes alone, or your kids need  more explanation, watch Bob and Jesse explain the program on this podcast.
3. Visit the AIO website to print off a page of Weekly Service Ideas to spark ideas. Have your kid add their own ideas based on their skills and interests. Serving in areas of giftedness makes it a blessing, not a chore.
Make room for the list on the fridge, after you throw away those expired coupons and the three week old grocery list that you forgot to take to the store. Use two magnets so it doesn't slide down and under the fridge to live  with the dust bunnies and your missing spatula.
Oh, yea, now I remember what I was saying, you can put the Path to Service on the fridge, too.
4.  Join Connie (acted by Katie Leigh ) and Chris (Chris Leigh) at the May 22nd  Launch Party!  It's through the computer, of course, so you'll have to provide your own snacks and party hats while you watch the webcast.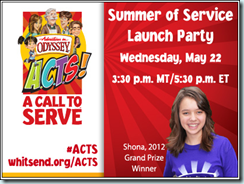 5. This is more than a challenge, it's a contest. From June 1 – August 16, your kids can make a two minute video telling about their service and why they want to be one of the first Adventures in Odyssey Ambassadors.
Many participating stores are hosting special recording events, and kids who record their video in stores will receive an AIO prize. Complete rules and prizes listed here.
The cool news is that the top girl and guy winner will go on  an all-expense paid Good-Goers Adventure-Based Mission Trip with a parent to serve orphans and enjoy a day of rafting in an overseas location. The May 22nd webcast will also reveal the top-secret location, so tune in!
The 100 third place kids win a one-year subscription to the Odyssey Adventure Club.
The 24 second place kids win a subscription and  a phone call from an Adventures in Odyssey cast member.
I was thrilled to talk to Jesse Florea at the Northwest Christian Writers Renewal May 17-18 this past weekend.  He's the editor of the Focus on the Family Publications Clubhouse and Clubhouse Junior and one of the inspired leaders for the A.C.T.S. program.
He previously stated his heart's plan for this program. "We want to remind kids that they have a part to play in God's story, and serving is an easy way for everyone to take part in that, "The challenge is a fun way for kids to learn about serving, but the end goal is that kids will deepen their walk with Jesus Christ through serving Him."
This is the real win in the challenge, not the awesome prizes. Many lives could be touched if our kids learn to say,  "How can I serve?" instead of,  "I'm bored!" 
This is an amazing challenge for our kids' Summer Lists, doncha' think? I'm game to bust summer boredom and turn whining in winning through service.
I'd love to hear if you will join our family in turning our summer into an adventure in service.