Another Monday.
Another week stretching out with too many things demanding my attention.  It always makes me wonder how I accomplish anything during the school year with homeschooling daily breathing down my neck.
My first order of business will be to find and compile all my To Do Lists from the past week in my Summer Binder and on my computer. I am getting a lot done, but I am not always efficient – YET.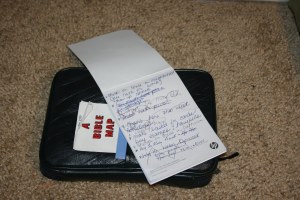 I jotted one list  down on on a small pad of paper in my Bible,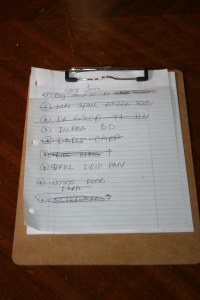 three lists on sheets of lined paper
 on a clipboard next to my bed,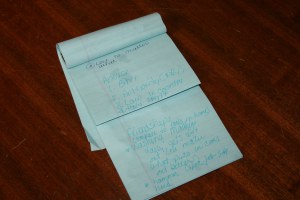 five pages on my desk
 that I scribbled on when  at my computer,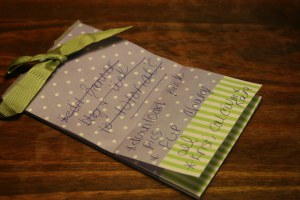 and another list for those urgent things
that popped into my head first thing this  morning.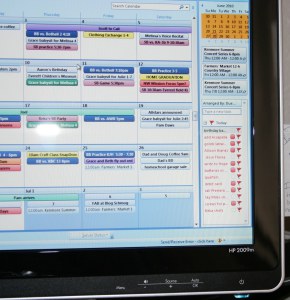 Oh yea, then there is the task box in my Outlook.
See all the little red squares on the bottom right of the screen?
Yea, those things are DONE, baby.
My plan for organizing the lists:
Long-term Lists –  These items are high-faluting goals, like painting rooms, sewing curtains, fixing things, ordering books, things that need or should be done in the next six months, but there isn't any urgency.
They can be written out according to rooms and subjects, just beautiful inspirational lists of aspirations.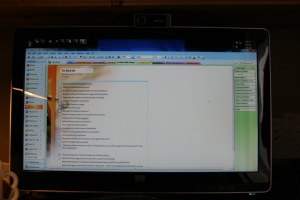 If I need to yearly track the list and accomplishments, like when planning Daily Vacation Bible School, I love to use OneNote, my favorite Microsoft product of all time.
If I want to cross off the things and throw the lists away, I write them on paper.  My summer binder  will also include lists  for planning  our family vacation and our trip to Bible Camp. In turn, these are divided into To Do, To Pack and To Buy segments.
Weekly Lists –  Overall view of weekly obligations. I use my Outlook Calendar (see pic above) program faithfully, listing all baseball in blue, appointments in orange, company in teal and traveling in lavender, etc. The calendars can also be printed and posted on fridge or in binder if I need to make it available to everyone.
Daily Lists– Just so I remember to do little things and keep priorities straight. Monday is laundry day, that goes without saying, so I don't even write it down, unless I have that undeniable urge to write it down just to cross it off. As I read my Bible in the morning and have those two cups of coffee, I am always prompted about little needs, like
Does Jon need another teeth cleaning?
I need to sent a card to my niece.
Sometimes I put so many things on a daily list, it automatically becomes a weekly list. That's OK!
Don't Do List – I am giving myself permission to NOT tackle anything for homeschool this week.
Our summer schedule is simple –
Morning – work
Afternoon – play
I usually get up much earlier than the kids because I cherish those golden silent moments and the ability to sometimes work on a project alone.  After they obey the Morning Rule – "get up, get dressed, make your bed" -they eat and we decide what needs to be conquered.  They usually aren't allowed to clean their rooms during this time, that is expected to be done.  Mornings are Mommy Projects, extra things I need help with and skills that I am teaching them.
Lists should be a tool, not a torture.  We are not a slave to them. There are days I give myself permission to not even look at my lists, or have to cross anything off.  Somedays, I do a bunch of stuff that isn't even on the list, and wasn't ever going to be on the list.
I still want to be led by the Lord in how I spend my time and energy.  According to Proverbs 16, we plan,  but the Lord guides. I am embarrassed to say that sometimes I forget to pray over my lists.
The lists are NOT to hang a noose around my neck, they are just to keep me from forgetting things that need to be done and keep me from wasting time.
Plus, when they are on the counter, the kids might even go see what "needs to be crossed off" before we can go play.
I am hearing the sounds of summer, laugher and lawnmowing, and the sun is peeking through my curtains.
I'm gunna throw in a load of laundry, stack my lists on the Summer binder in the kitchen and grab another cup of coffee.
'Cuz, I have another Monday to face.
*****
Follow me over to Nan's Blog where she hosts
for more encouragement to start your new week.