When Grace and I were planning her Graduation Open House, we quickly realized we were approaching the elephant from opposite sides.
She saw a trunk, I saw a tail.
Our view was worlds apart.
When I began asking her about the decorations, she said, "Mom, nobody cares about decorations, they only remember the food they ate."
I said, "I never remember the food, I just remember when they didn't decorate."
I wanted the party to
look
festive, she wanted it to
taste
festive. We had to describe that elephant together.
We immediately nixed the idea of decorating with traditional mortarboards and school colors.
I didn't want to throw money away, so we wanted to choose items that could be used
for other special occasions or in Grace's room.
Grace doesn't have any favorite animals, flowers or sports. I finally begged her, "Just pick a few colors you like,
please!
"
Grace and big sister went to Ikea with a budget,
a desire for bright colors, and came home satisfied.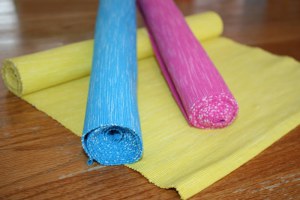 They chose three table runners,

three Chinese lanterns, paper plates, napkins, and votive candles.
 I added one yard of this fabric from Jo-Ann's to tie all the bright colors together.
I made two smaller tablerunners to layer over the purchased runners,
finishing the edges with a decorative stitch and unraveling.
(I used the same method on a beautiful piece of vintage looking  pine-cone material to decorate for last
Thanksgiving.
)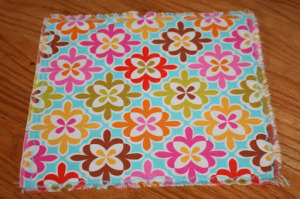 Since I still had material left, I made three smaller squares. They can be used as basket liners or to add a splash of color on a smaller table.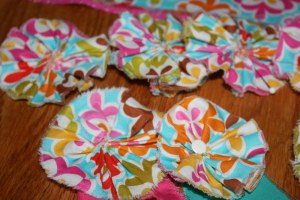 With the final piece of material left, I ripped strips and made yo flowers.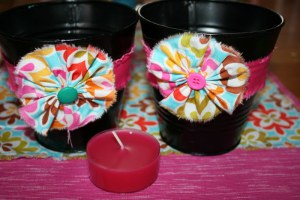 They were used to decorate the simple tins I spray-painted black. One held plastic forks, the other held colorful straws.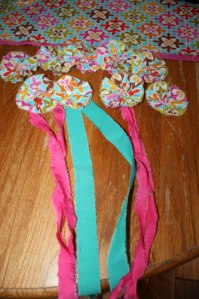 To make the yo flowers look more like ribbons, strips of ripped fabric were attached.
They were simple thumb-tacked to the deck railing.
The fabric was cheaper than the majority of the tissue mortarboard novelty items we saw in party stores and everything is reusable.
The best part of the decorating, Grace was satisfied.
She thought it was beautiful.
At the end of the day, I was still remembering the bright beauty of the day,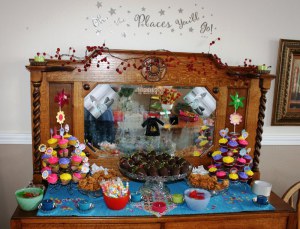 and I wasn't remembering the food.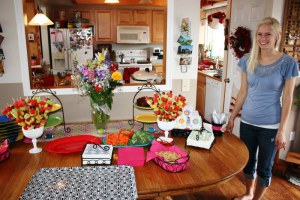 I had forgotten to eat any of it.