If you missed the first day of the Prairie Journey,
********
Nine miles north, three miles east.
I traveled this path to my North Dakota home on the Olson farmstead thousands of times during high school.
Yes, my family bought the ten acre farmstead, complete with barn, house, chicken coop and granary, but it was always referred to as the Olson farmstead.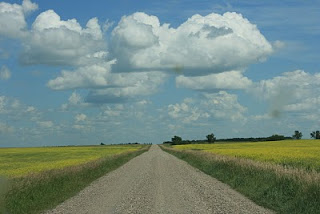 My high school friend, Janet, drove nine miles north and three miles east, to my former home on the prairie.
The road stretched before me with anticipation, as it did when I first moved to ND from Montana after I finished 7th grade.
Our family had been so excited to buy a farmstead.  We wanted to garden, raise animals, remodel the house, and entrench ourselves with the people of the small town.
It didn't happen quite that way.
We gardened and raised some animals, but never quite were able to find our place in the farm community where the rest of our classmates had grown up together.
After about seven years, my parents moved back to Montana.
My family's best memories always revolved around our beloved old Farm House. Janet tried to break the news ahead of time, but, it was still a bit of a shock.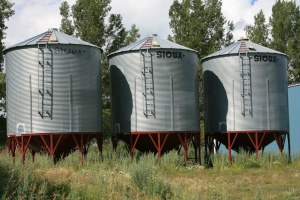 Our house had been razed, grain bins stood in its place.
Janet is walking down our old driveway, the road I learned to drive on.
It's also the road I chased the runaway cow down in my high heels on the mornings he got out before I went to work as the newspaper office.
The view I used to enjoy out of my bedroom window.
We'd be unable to sell it, so squatters moved in and didn't care for it the way we had, nor did they pay rent. Because of obscure laws about evicting in the winter, we had to allow it. For years the house had been empty o rented and had fallen into such a state of disrepair, it had to be destroyed.
The work my family invested in remodeling the farm house was buried beneath ND soil.
Driving back into my hometown, I saw further ravages of time. The newspaper office I worked at for several years had burned to the ground. The restaurant I frequented had closed. Almost every business on Main Street was closed or changed.
It was like my high school life had been  erased.
I still am humbled by the reaction to my presence at the one class reunion I attended 18 years after Graduation. Three different people expressed their disbelief that I was in their graduating class.
It seems that even memories of me were erased along with physical evidences of my existence.
I had mixed emotions as I pondered all these things.
Although the town shows little evidence of my existence, my existence shows evidence of living in that town.
I learned faithfulness.
I cherish the friendship of several friends who are still a part of my life.
I learned forgiveness.
I forgave those who tormented me weekly, although they never confessed their wrong
I learned diligence.
Building, fixing, remodeling and gardening were tasks that built my character, even if the work itself was destroyed.
I left my hometown, but those things I longed to leave behind, followed me. I still had to deal with them, the stench was heavy on my soul. Whether it was my sin, or the sins against me, they had to be forgiven and cleansed, for me to have peace in life.
The Lord is gracious with His forgiveness and taught me to forgive others.
Psalm 103:12
 As far as the east is from the west,
So far has He removed our transgressions from us.
Like my home and the newspaper office, the sins and troubles of my past, have been erased from time.
Now, I can excitingly return to a place I couldn't wait to leave. I'm blessed to fill my heart and mind with new memories with my faithful friends.
But, it's only because the east is so far from the west, that I can travel back on a path of peace that is
nine miles north and three miles east.
**********