A storm of historical impact was predicted to blast the West Coast last week. Over the Pacific Ocean the remnant of Typhoon Songda slam danced towards the coast, bringing high winds and waves, and the threat of flooding and power outages.
I've experienced enough natural disasters, I should be prepared for anything.
We spend seven years in Kansas hiding in neighbor's basement because we lived in a tornado bullseye, a trailer. We even survived an inland hurricane that went between our house and our neighbor's house. In North Dakota we faced white-out blizzards and flooding from the Red River. The winter of 1996 accumulated 114 inches of snow, then it all melted to cause the 100 Year Flood of 1997.  In Montana we evacuated several times for forest fires, their biggest danger.
In other words, I should know better.
When the news agencies broadcasted serious warnings I wasn't the only one scrambling to prep.
Power outages are common, so most were prepared for a day or two, not a week. As early as Wednesday, store shelves were emptying. West Coasters scavenger hunted to find the supplies we needed.
Some on Facebook nicely questioned our frantic concern over only a windstorm. High winds are dangerous in the Pacific Northwest because our trees aren't deeply rooted because it's so moist. The majority know at least one person who had a tree fall on their home. Trees that are weakened by having supporting trees cut down, being laden with rain, are diseased or damaged, could topple without much provocation.
Then they raised the warning from a 1-in-3 chance to a 50% chance. I bought more water and batteries. A saleman suggested a solar light and I snapped it up.
My bed was made and the house picked up in case the huge cedar in our backyard split my house in half for all the neighbors to see. I dressed with the morbid thought "I wouldn't be caught dead in that" flitting through my mind. OK, writers tend to exaggerate everything.
The rains started. More food and snacks were purchased, along with movies from the thrift store. I boiled a dozen eggs and washed and cut all the fruits and vegetables.
The forecast changed from Thursday to Friday. Traffic slowed, Homecomings were cancelled, and we all hunkered down and waited.
And waited.
And waited.
Saturday was the new hit day.
We spent a lazy Saturday at home, reading, watching movies, and burning through our firewood. We ate enough snacks to make ourselves sick.
I went to bed Saturday night with the prediction now after midnight, half worried it would strike with a vengeance while we were sleeping, and half worried that I spent too much money for nothing.
Sunday we woke to a neighborhood whose glorious fall colors glistened with nature's sparkles. The soft glow and warm air enveloped like a hug from the earth. Cedar bits and leaves carpeted our streets and sidewalks, lightly decorated with a few small limbs.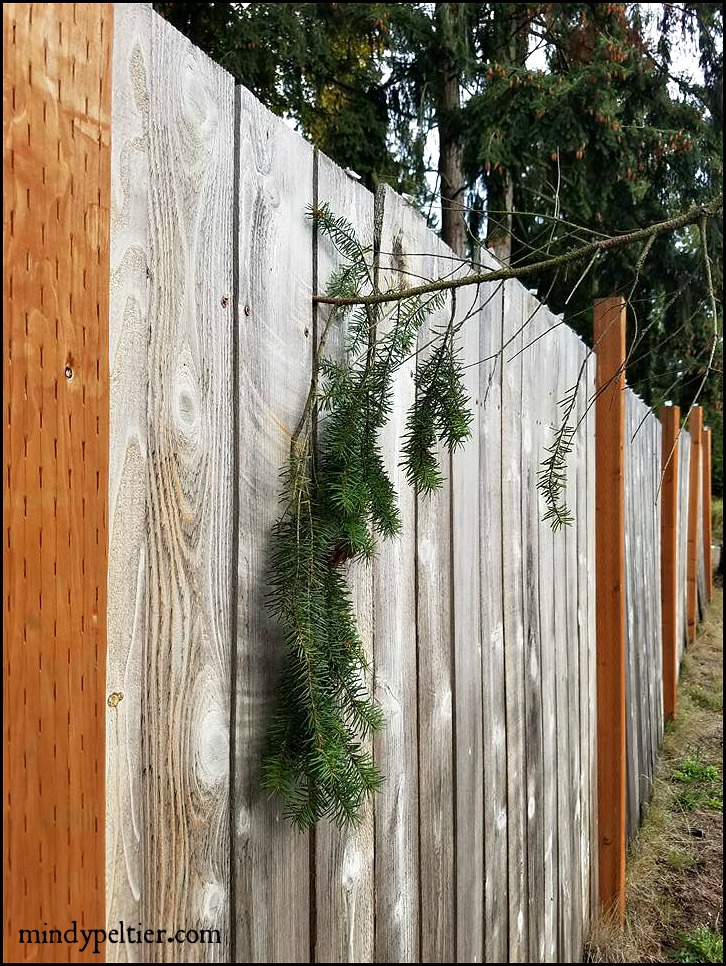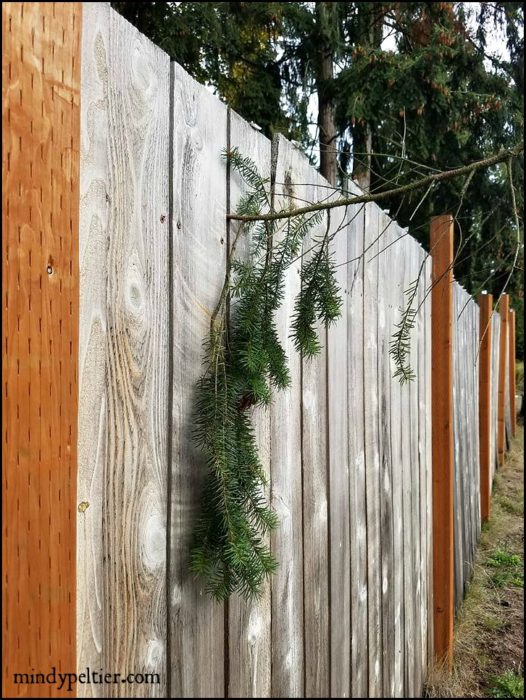 One random branch bullseyed this fence.
The storm was over.
I should've been rejoicing, but I felt like my game had been cancelled. My Bring-It-On turned into I-Slept-Through-It.  In our area, the term Storm of the Century became one of jest. But, while we were unscathed, other areas were hit unexpectedly, like Portland with two tornadoes.
Outcomes of the Storm of the Century:
I am now prepared. Emergency preparation isn't just for the Boy Scouts. It took years to turn intention into action and create an emergency kit. The historic Children's Blizzard of 1888 was tragic because nobody knew it was coming and children died walking home from school. There's no excuse to be surprised with technology to predict storms and resources to survive them.
The second blessing was my neighbors. There was another storm I was battling that week, the Perfect Storm that occurs whenever my husband is out of town. He's traveled for work for nearly 20 years and has been my long-distance support through many of the storms and traumas in our life.
As surely as man is born to trouble, when man is gone, his wife is to born to even more trouble. We've learned to expect this and work together to plan and prepare to limit backlash.
I let my neighbors he was on the road and they happily stepped up. Nash (Kelly-Across-the-Street's husband) was my mechanic and jumpstarted my truck two times. Rick was my generator wizard, setting it up and starting to be ready for power loss. His wife, Sandy, brought over homemade chicken noodle soup so I didn't have to cook. Though my husband was gone, I wasn't alone.
Waiting for the Storm:
Looking back, waiting was the hardest part. The prepping gave me physical purpose with daily objectives. The waiting is a mental and spiritual journey as you accept your life could continue as normal or be drastically changed.
We've all had our life on hold waiting for a predicted life storm. It could be a health diagnosis, a move, a divorce, or a death. Even though there's trauma that leads up to it, the storm is the game-changing event.
We prep for life storms the same way. Scavenger hunt for your needs. Involve trustworthy people. Pamper yourself. Prepare for the best. Prepare for the worst. Just prepare.
Then, hunker down and wait. You will endure whatever unleashes.
Links to help you prepare for a storm:
Store extra batteries (no more fridge)
First Aid Kit (print out list from Mayo Clinic here)