It was going to be Grace's Big Night.
She was attending the Celebration Dinner to celebrate the end of another great year of homeschooling high school. Well, that's what the Moms are celebrating, the daughters just want a chance to dress like a Princess.
Grace had been Princess preparing for weeks. She altered a beautiful red dress, either size 14 for $12 or size 12 for $14, to fit her small frame. She accessorized with the perfect jewelry, shoes and a lacy sweater.
After writing a history paper on Jacqueline Kennedy Onassis, she had been whining, in her adorable Grace way, that she should attend finishing school like Jackie O did. As her banquet drew nearer, her whining increased. She was SURE she needed help, but finishing school wasn't an option. Instead, we gathered the four generations of women in the living room to finish her off in our own middle-class way.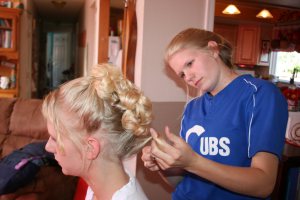 Big sis, Bethany, who's attending cosmetology school next year, finishing the do' for the princess.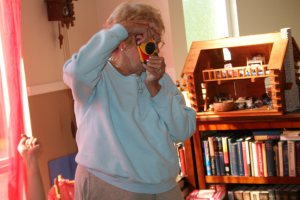 Grandma Barb is
finishing
the photo shoot. She also participated in advising, watching, giggling and enjoying the girly-girl moment.

Granddaughter, Brookelyn, is finishing off my clean living room. She wanted to be a Princess, too, but, this little Princess needs a Maid-in-Waiting! In her quest for beauty, she scattered bobby pins, brushes and combs around the living room. She did try to help put all the hot rollers back in the container. She would grasp one in her chubby hands, run over to the container in that sideways bobbing motion only toddlers have mastered, then try to shove it on the little pegs. While Brookie amused herself and messed up my living room, Grace stood up and went to finish her beauty routine.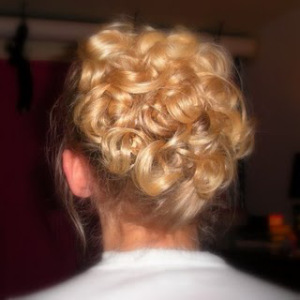 A princessy work of art! We were enjoying Beth's awesome transformation of our daughter (how should I describe her?) into a glamorous young lady. We were stunned. But not for long.
I was in the bedroom getting my camera bag when exasperated, elevated voices reached me. I knew it was my Amazing Grace.

She was at the kitchen sink, giggling in her flustered way, while scrubbing on her beautiful red dress with a green washcloth.
"What happened?" I asked. I only had been gone a few minutes. Just a few, short, minutes. Not even a New York minute.
"Well… I had put cover-up in the palm of my hand in case I needed more. Then, Bethany needed to fix my hair. While I was sitting there, well… I just forgot it was there. I stood up and was smoothing my skirt down and ….well…I got makeup all over my dress."
Sure enough. Flesh colored makeup was spotted down the front of the sheer overlay to her dress. I began running the water as hot as it would go, found a white rag, and began treating the spots. Water didn't work. Soap and water didn't work. Baking soda didn't work. This stubborn cover-up was determined to do its job. It was covering up her Princess dress.
"Eewww, and I put that on my face? Does it ever come off your face?" Grace wondered aloud, but, it gave me an idea.
"Makeup remover!" I shouted as I dashed down the hallway to my bedroom for the oil-less makeup remover and cotton balls.
We had only a few minutes before the dinner began.
Determined as a movie-hero, I had to fix this dress and I wasn't going to give up without a fight.
We dabbed and dabbed and rubbed and dabbed, until we had the makeup out. We used hot water to rinse the area, then I sent Grace to dry the dress with her hair dryer. I wasn't sure if I should have left her alone again.
Then, I heard another noise that indicated something wasn't quite right. One of those Gracie screechy, laughy noises that sends premonitions, worries and exasperations up and down my spine. I ran back down the hallway to find this.

She also had That Look on her face. The Amazing Grace Look. She lifted her skirt and said, "Look, Mom, I forgot to take my running shorts off and put on my slip!"
Instead of being Jackie O. my daughter is Gracie OH NO!
I was still wondering if I trusted her alone as she trotted downstairs to get on her slip. Quickly she was back upstairs and flying down the long hallway to Rebekah's room. She was frantically digging through her closet and tossing things, cartoon-like, over her shoulder.
"What in the world are you looking for?" I tried to be stern, but also knew her answer would be amazing.
"A purse that I let Rebekah use for dress-ups."
I handed her the purse she was looking for. It was right next to her, hanging in plain view on a peg. It could have bitten her. It should have bitten her.
Feeling Cinderella's pain, I informed her I was taking a few pics. I had to capture these few moments of perfection before any more major disasters occurred. She did the obligatory teenage whine thing about being late already. I used the parental trump card, informing her that after all I did to get her ready, I was going to take pictures. Nice pictures. She whined happily at me, and trudged to my outdoor photography studio across the street. She posed with the tree, bench and stream as I commanded. The whole time, I was giving her strict instructions.
"Don't slip."
" Don't fall."
"Don't step in a dog poo."
"Don't snag your dress."
" Watch where you step."
Happy with the gorgeous pictures of my Amazing Grace, we were finally ready to leave. I was emotional and almost weepy in the memory-making rite of passage. I was trying to think of something tender and encouraging to say to my daughter to solidify this bonding moment in our hearts forever. But, as I walked by her side of the Jeep, I had to settle for, "GRACE! Your dress is shut in the door!"
My emotion of exasperation was back, and despite my doubts of getting her there in Princess form, she made her fashionably late entrance and enjoyed her Celebration Dinner.
Near 11pm, she and three friends arrived home, still gorgeous, but a little tired and wilted. Dad greeted them at the door with smiles and compliments. Then, he stared harder at Amazing Grace.
"What is that on your dress?"
"That?" she giggled. "Don't ask. It's chocolate."
Can anybody recommend a good finishing school? Before she finishes me off?