I started this blog thinking I could just write about the fun stuff in life, like my kids and my husband and how they drive me crazy with their antics. I never thought that cancer would be a part of my blogging. The Lord had other plans. Since I have been blessed with a large family and many friends from coast to coast – east to west and north to south – this is a good way to keep loved ones updated in my Exciting Cancer Adventure.
and maybe not an
Adventure,
Or, to be medically correct,
recurrent

pappilary

thyroid carcinoma
.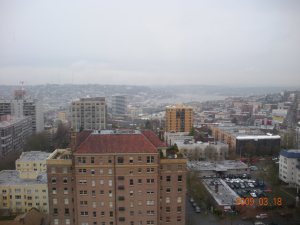 Thursday, Scott and I were to meet our new
ENT
, Dr. M, from Swedish Cancer Institute. We were on the 15
th
floor and I was enthralled with the city view below us. I stood at the window, oohing and
aahing
and taking pictures. Feeling a bit like a tourist, I asked the nurse, "Can you tell I'm not from the city?"
I was shocked that I could hear the street noise almost as if I were down on the street. The nurse explained some of what we were hearing were the drug addicts who were receiving free injections at the methadone clinic. She said it got even louder because of frequent fights and police sirens. Another surprise for a small town girl. Addicts receiving free injections?!?! Only in America.
Although I loved the years living out in the country, I find the city fascinating. I could see a man talking on his cell phones on his balcony, (I wasn't snooping – just observing), a few pan-handlers, the inevitable saggy pants kids on skateboards, business people striding purposefully, homeless rambling dejectedly. It seemed their walk matched their ambitions and hopes in life.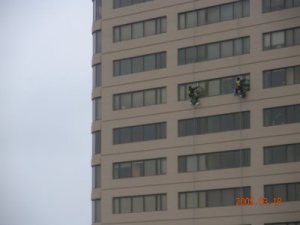 When I spotted window cleaners, I couldn't stop staring. How can they NOT be afraid? I was so entertained, I was glad the doctor was running behind schedule. Scott wasn't as easily entertained. I watched them hanging from their ropes, sitting on a small perch, and wiping with incredible efficiency. After awhile, I was able to judge which of the three window-cleaners was using the most efficient routine and felt like cheering him on like you would at a football game. I was wondering if they were racing against each other. I also wondered what cleaning product they were using….I always leave streaks….
When the doc came in, I reluctantly put away my camera and got down to business.
The surgeon went through a list of worst case scenarios that could occur during a surgery and I can't remember any of those big words.
We were surprised to find that the lump that is giving us the most concern is not one we have been following. It is behind the right jawbone, cleverly hidden in the tissue. At 5 mm, it is "the size of a
bb
" and Dr. M is not positive he can find it. It is the proverbial needle-in-the-haystack. Yet, if they leave it, the cancer will grow and possibily spread to the lungs.
I told the doc we were born-again Christians and had probably a few thousand people praying, between the churches across the US and overseas where we know missionaries.
He raised his eyebrows and said, "Well, I wish those prayers would make me perfect."
I know his heart's desire is to heal everyone, and it must be frustrating to know you can't, but I explained him that as people were praying for me, they were praying for him and there would be two sets of hands in that surgery, his and the Lord's.
Now I have to ask for continued prayer and for the miracle that Dr. M. will find this little tiny tumor, not primarily for my healing, but for the glory of the Lord. I pray that he would open me up and see an answer from the God in Heaven who is the Great Physician. I long for the Lord to be glorified in my body!
I will have to have an MRI (NOT ANOTHER TUNNEL – SIGH!) and the surgery date is set for April 13
th
. As a non-recovered
clausterphobic
, I find the testing more challenging than the surgery.
I'll see if I can fit that in my busy schedule. I'm also wondering if I leave my camera out, if the nurses will take pics of me since I will kinda' be indisposed….
Isaiah 41:10 "Fear not; for I am with you:
be not dismayed; for I am your God:
I will strengthen you; I will help you;
I will uphold you with the right hand of my righteousness."