Then, we learned that we are to give thanks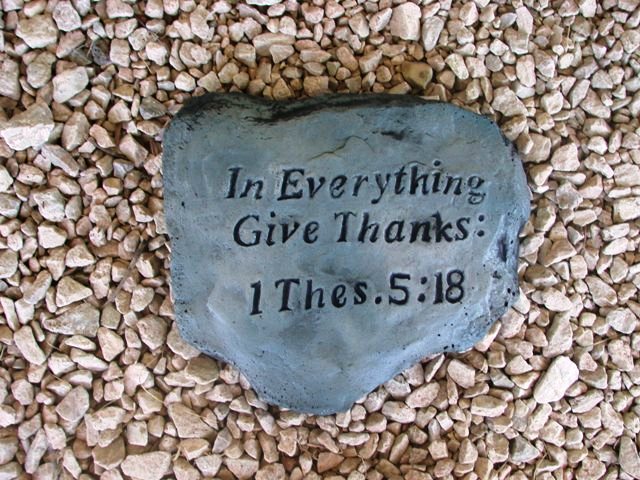 The second word of the verse can be just as challenging as the first.
See, we're two words into the verse, and we're under serious conviction.
In
Everything?
Everything!
We might doubt the wisdom and expected execution
of our dear Heavenly Father.
Really?  Everything?
Christmas is coming up.
If you're like me, you'll make sure there are several gifts
for each family member under the tree.
Do you expect your children to thank you for every gift?
Really?
Even the socks?
Even the underwear?
Even the chia pet from the auntie?
Give thanks for every gift?
If we can expect this of our children,
our Heavenly Father can expect this of us.
Wait a minute, I hear you protesting,
trials aren't the same as gifts!
That's not a fair comparison!
It isn't?
We only think of these situations as trials
because we can't see the Lord's big picture.
We got a flat tire once.
Friday rush hour traffic on I-5.
It was raining.
Bumper to bumper traffic trying to escape Seattle.
We could have complained
and fussed and moaned.
We thanked the Lord and changed the tire.
I know you what know what
everything
means,
but let's just spell it out anyway.
It's easy to give thanks to the Lord when we  buy a new house,
have a new baby, get our income tax refund back,
make a new friend, get a front row parking place,
enjoy a family vacation.
These good things from the Lord should cause our hearts
to overflow with thanksgiving.
But, giving thanks in everything has to include cancer.
It has to include losing friends to cancer.
It has to include moving.
It has to include accidents.
It has to include trials.
It has to, because it's the Lord's will.
And if it's the Lord's will,
then it's the right thing to do.
We give thanks in
everything
because we don't know
 every
part of God's plan.
We don't know
every
person He's trying to touch through our situation.
We don't know 
every
blessing the Lord wants to give us.
We can't pick and choose when we want to trust the Lord.
We either trust Him or we don't.
To trust Him it means giving thanks in
because nothing is out of His care or His plan.