Sometimes, a simple skill brings great change and empowerment. I  used that word because I used it in my blog title yesterday and I have to prove I'm practicing what I preach. Can I hear an AMEN?  OK, maybe not…
So, people from the Midwest love to use this word to begin and end sentences, I put a photo on my Facebook author page with myself and two other women.
With the new double-column look of FB, the pics appear cropped and you don't see the entire picture until you click on it.
Stink! I didn't show up in the picture on my own page.
But, I wanted it about me.  All about me. 'Cuz we all know if Momma Mindy ain't happy, ain't nobody happy.
Anyhoo, I clicked around because there's always something new on Facebook. Maybe you don't remember I blogged about my mantra,  Click Until You Conquer?  I don't know if Facebook sneaks things in when I'm sleeping, or if I never notice them, but I clicked around until I found a Cool Tool, so…
So, it's called….drum roll please….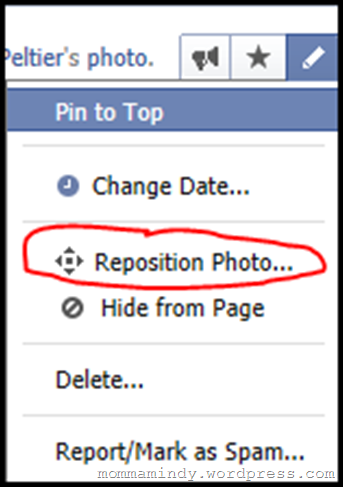 Pardon my shaking mouse finger where I circled in red, but hover your mouse over the right hand corner of the photo status until
appears.  Click on the little Pencil until the dialogue box drops down, then click Reposition Photo.
Then grab your picture with your trusty left mouse button and move it where you want it.
We have all learned the hard way what happens when you don't click that magical little SAVE button, especially in the Olden Days before Word developed Document Recovery.
Talk about empowerment, I turned two Mindys into Cyclopses. But, at least it shows  there were three people in the picture and if anybody wants to see both my eyes, they can just click on the pic. (Just a side note, should the plural of Mindy be Mindies?  Ya' know the change the y to i and add es thing? And is the plural of Cyclops Cyclopses? Just wondering….)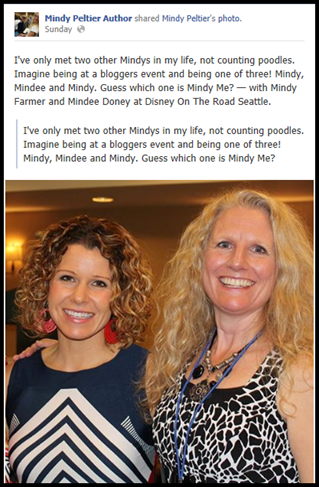 The other option is to leave out one someone.  But, having one eye cropped out is better than having your whole body cropped out. Unless you wanna' crop out someone, but I would never say anything about mother-in-laws or those not-really-friends in public, no sirree, I wouldn't.
So, there ya' have it.  A Cool Tool that empowers you to reposition people in and out of your pictures on Facebook.  Not applicable to personal lives.