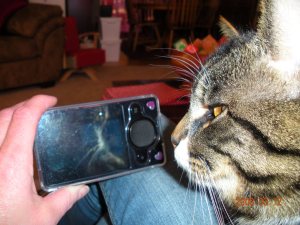 This is my pet, SPAZ, scanning my Zune. He crawled onto my lap and helped me watch National Treasure.
I had been so worried about hearing the results of the PET scan in a letter, that I kinda forgot to worry about what the results would be . Maybe it was a good diversion for a few days.
To my great relief, my new endocrinologist called me in person Tuesday evening. But, just the fact that I heard his voice on the other end of the line told me the answer I was waiting to hear – my cancer had come back. I was thankful to hear that he thinks the cancer is contained to only one of the many lumps that have grown back since my initial thyroidectomy in 2005. I have an appointment with my new ENT next week, and surgery should be scheduled sometime in April.
I was ready. I had shed my tears, I had cried out to the Lord and I had trembled at what was ahead when I first was faced with the ordering of a PET scan to test the lumps on my neck.
But, even before that, I knew. I knew in the fall when the Lord prompted me to get school done early so I would be ready in the spring.
I knew when the Lord blessed my husband and me with a beautiful, relaxing vacation to Hawaii.
He told me.
Now I have the job of telling everybody else, one of the harder things I have had to face in my life, now two times. I called family, friends, sent out emails and tried hard not to forget anyone.
I dreaded making the calls and writing this blog, knowing what I had to share news that will cause others pain, tears and sorrow on my behalf. But, I am so thankful to be loved and prayed for by many. It has been, and will continue to be, my sustenance throughout this trial.
I thought of these verses Paul penned to the Christians in Ephesus. We do not have the same circumstances, but the same desire for others – to KNOW and LOVE the Lord Jesus more.
Ephesians 3:13-16
I ask you not to lose heart at my tribulations…
…I bow my knees before the Father,
that He would grant you, according to the riches of His glory,
to be strengthened with power through His Spirit in the inner man,
so that Christ may dwell in your hearts through faith;
and that you, being rooted and grounded in love,
may be able to comprehend with all the saints
what is the breadth and length and height and depth,
and to know the love of Christ which surpasses knowledge,
that you may be filled up to all the fullness of God.
Now to Him who is able to do far more abundantly beyond all that we ask or think,
according to the power that works within us,
to Him be the glory in the church and in Christ Jesus to all generations forever and ever.
Amen.