The first time we see a scourge in the New Testament,  it is in the hands of the Lord Jesus.
John 2:15, "And when he had made a scourge of small cords, he drove them all out of the temple, and the sheep, and the oxen; and poured out the changers' money, and overthrew the tables."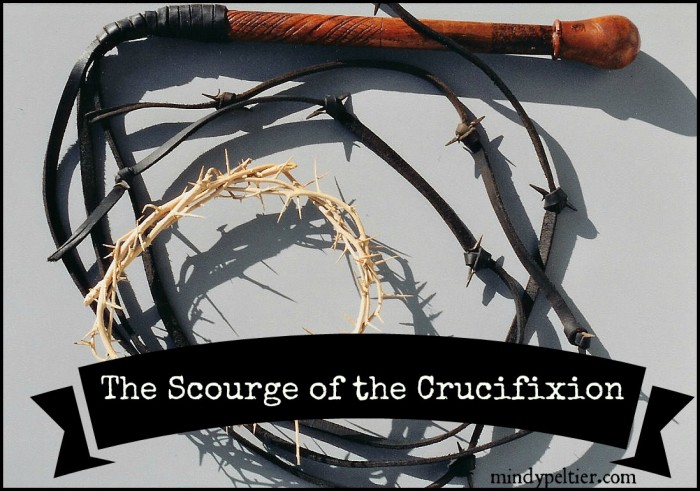 (Photo used with permission from Visit Israel With Us)
The Lord's Scourge
He didn't grab a scourge from a nearby Roman soldier, He deliberately wove one together in planned vengeance. The money changers had turned His Father's place of worship into a place of profit. God required animal sacrifice to cover the sins and instead of blessing the forgiveness-seeking populace, the temple workers were robbing them.
When a family brought a lamb to sacrifice, the money changers would refuse it because of an alleged blemish, then sell them a different lamb for a high price.  The family's lamb would then be sold to another family.
These sacrifices foreshadowed  the Lamb of God who would die to take away the sins of the world.  Greed ruined this beautiful picture by charging for the blood that was to be shed. The scourge was used against religion for profit.
The Lord's Scourging
The second time the Lord Jesus was in the presence of a scourge it was used by the Roman soldiers to mutilate His body, to the satisfaction of the highest Jewish leaders of the day.
Isaiah 52:14, "So His appearance was marred more than any man,
and His form more than the sons of men.
Do you think when the Jews learned about the scourging of Jesus they remembered the scourge He used in the Temple? Were they upset over their loss of income? Did their hardened hearts see the bloody marks of the scourge as vengeance?
The Lord Jesus used a scourge to drive wicked men out the Temple, then a scourge was used on the only Man who could drive wickedness from their hearts and make it a temple for the Holy Spirit.
Would the Lord Jesus take a scourge to places of worship today?
People should never have to pay to hear the Gospel, nor should spiritual lives be hindered because people can't afford to participate in the ministries.
George Müller believed you shouldn't let your financial needs be known, he asked only of the Lord. He also didn't accept money from unbelievers. He received over £1,500,000 to care for over 17,000 orphans in Bristol, England, estimated in today's market to be $124,000,000.
We must not offer faith for profit, the Gospel and Bible teaching should be offered as freely as the blood of Jesus.
For further reading:
Author Don Dedrick ~ The Scourging of Jesus Christ