Several years ago, a dear older brother from our fellowship gave me two copies of a book he wrote.
I mistakenly thought it was a book preparing a believer for death.
The books were placed on my shelf for future reference. Afterall, I wasn't planning on preparing for death, I was praising the Lord for keeping my three tiny cancer tumors from growing.
When this dear brother, Doug Kazen,  went to be with the Lord he loved Saturday, March 17, 2012, I felt a great sting and a horrible loss.
It was then I realized his purpose in writing the
book.
 He wrote this to comfort those who had lost a loved one to death.
It felt like he wrote it just for me.
Although we mourn the passing of his physical body and the loss of his earthly ministry, he leaves behind a great legacy of faith.
He loved the Lord Jesus.
I often heard the story of his conversation at the age of 12 and he still marveled about his lovely Savior.
He loved the Bible.
He was a gifted Bible teacher and studied faithfully. You always learned something, even in a short conversation. He preached across the United States and in several other countries. Even though he was well-known, he humbly chose to serve as a Bible teaching elder in a very small fellowship of 40 people. (
Voices for Christ
has a few of his messages available online.)
He loved the believers.
He bestowed his love in a myriad of ways: words of encouragement, a fatherly hug when needed, listening with his ears and heart, and words of thankfulness for service. All my kids felt his love and appreciation.
He loved the Gospel.
His first message preached was a Gospel message, and he never lost the thrill or joy in being able to share about the salvation he'd experienced. Even in his last days on earth, he joyously preached the Gospel to the hospice nurse.
He loved his wife.
All of my kids knew and loved the story of how he fell in love with his wife, and knew his love had only grown in their 55 years together.
I know brother Doug is not feeling any sting or any pain.
I know  he is in the presence of the Lord.
I know he is better off.
I know.
I believe.
But, like many others left behind, I feel the loss deeply.
Other than the story of how he fell in love with Edyie in one glance, I loved to hear the story of one of his greatest disappointments on earth.
Doug was going to be a dentist. He was brilliant. He was talented. But, he had big hands, too big to do the delicate work required as a dentist.
At this point in the story,  he would hold up his big beefy man-hands, that looked like they should be holding a football, an axe,  or a sledge-hammer.
He would tell of the despair that caused him great  to doubt and fear the future.
But, it took this great discouragement to put him on the path the Lord intended.
Then he was drafted and served  the United States off the battlefield as a Conscientious Objector.
Two things he didn't plan.
Two things that were beyond his control.
Two things that brought him to his ultimate destiny.
Doug ended up inventing and manufacturing portable dental and medical equipment for the military, fulfilling a great need and providing a great benefit to the world.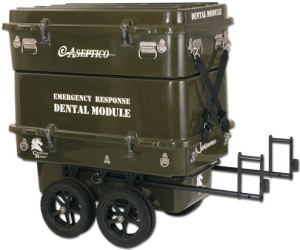 Click on the
link
to see how this amazing device unfolds.
His greatest disappointments in life were only roadblocks to make him turn to the path of the Lord's purpose.
But, if we only honored him as a successful businessman, he would be disappointed. He asked his wife to ensure his life story would NOT be told at his funeral. Still marveling at the salvation he'd experienced at age 12, he asked that  only the Gospel be preached.
Now, that's a godly man whose death leaves others feeling the sting of his loss.
Good thing he left behind a book to comfort my sorrowing heart.