October is the perfect time to start planning Christmas cookies.
Desiring that magazine-perfect Christmas, I invited Kelly-Across-the-Street to make Christmas cookie dough for the freezer. It will make baking Christmas cookies with little ones who will spill,  eat the frosting and decorative sprinkles, have to go potty  after you've washed your hands for the fourth time, or confide something important the minute you turn the mixer on.
Kelly is sifting with my Gramma Geneva's flour sifter, working on her red chrome table, and using her recipe for rolled out sugar cookies. This cookie has been a holiday tradition as long as I can remember. But, for years after Gramma died, I couldn't make her cookies. Only in the past few years have I been able to bring this tradition back into my life without pain.
The spritz cookie recipe was from Gramma Alice, a dear older Christian woman who raised six kids, saw them all marry believers and raise scads of Christian grandchildren for her.
Alice and husband Marvin welcomed Scott and I into their hearts and home and taught us much about marriage, parenting, and the Christian faith. I celebrate her spiritual influence on my life every Christmas by using her recipe for spritz cookies.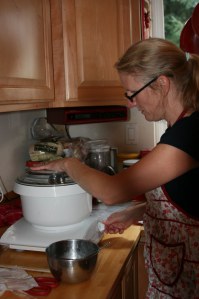 I'm using my new Bosch mixer, a dream come true servant. Since I don't like learning how to do anything new, Kelly read the directions for me. I threw in four not-so-soft sticks of butter, sugar and vanilla and we watched through the clear top – marveling.
Tim the Toolman would LOVE this mixer. So much power.
If you think you love your 325 watt Kitchen-aid mixer, try the Bosch 800 watt motor.
Read that and weep. Lotsa power. Never again will I worry about not thawing out the butter long enough. If you want to check out incredible cooking gadgets, recipes and spiritual encouragement visit
Urban Homemaker
.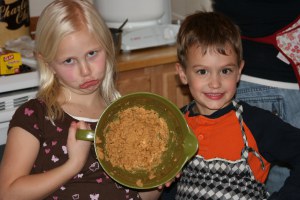 Since the kids were SO disappointed we weren't going to EAT any of the Christmas cookies that day, they mixed up a $1 Betty Crocker peanut butter cookie mix for the Easy Bake Oven.
Don't let Easy Bake's marketing strategy fool you, you don't have to buy their $5 mix to make six little cookies. You actually can use the grownup pouches and make WAY more cookies.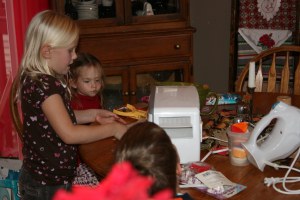 Since it takes several minutes to roll out the cookies and seven minutes to cook four teensy-tiny cookies, the kids were kept out of our way for a long, long, long time.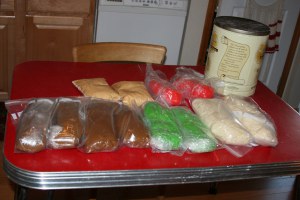 Kelly and I made double-batches of gingerbread, green and red spritz, sugar cookies, and the nummy filling for peanut butter cups.
Next week, we'll make four more kinds of dough and then we will be ready for the fun part – baking, decorating and hiding the cookies from our husbands until we're ready to display them Martha Steward style on gorgeous trays, next to shimmering candles with the strains of Christmas music wafting through the air.
Accompanied by the jostling and fussing of children debating over who gets the tree cookie or who gets the last peanut butter cup, of course.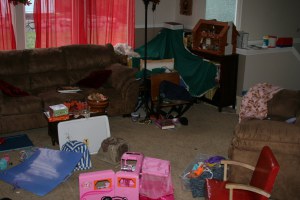 When the kids got tired of making their teensy-tiny cookies, they made forts, took the Barbies camping, and touched everything  in my living room. I didn't care. They were having a blast. Rebekah has so few opportunities to play with kids, I needed her to play with abandon. They needed to play, pretend, imitate, dress up, and be kids. When Kelly and kids arrived I informed them, "I didn't clean for you."
That doesn't mean they aren't important to me, that means I am comfortable enough to let them see the real me. Not the perfect me I wish I could at least to pretend to be while blogging and posting pics of my wonderful life. The real you-gotta-shovel-a-path-thru-the-living-room me.
But, because I didn't clean, it didn't matter if the kids messed it up. A lesson in hospitality I have learned over the years.
Gramma Geneva's Sugar Cookies
Cream together:
1 cup shortening
1 cup sugar
1/4 cup milk
1 t. vanilla
2 beaten eggs
Sift together and add:
3 cups flour
2 t. baking powder
1 t. soda
1/4 t. nutmeg
1/2 t. salt
Chill dough. Roll out and cut with cookie cutters. Bake 350 for 8-10 minutes or until lightly brown.
Gramma Alice's Spritz Cookies
Cream together:
1 cup butter
2/3 cup sugar
1/2 t. vanilla
1/2 t. almond
food coloring (It's easier to add to wet ingredients, make it darker than you want it)
Add to above:
          1 beaten egg
Sift together and add:
1 t. baking powder
2  1/4 cup flour
1/4 t. salt
Mix and put through cookie press. 350º for 8 minutes or until lightly brown.
Only 58 days until Christmas!
What are you working on? I'd love to be inspired more. That magazine perfect Christmas just might happen this year…..maybe…..just maybe….