We celebrated Valentine's Day in our usual way, with the family gathered in the living room with the youngest child, Rebekah, passing out the messages of love from our special box.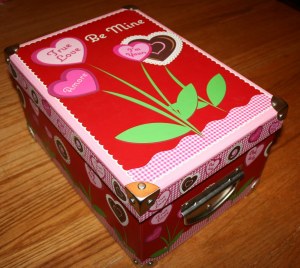 In the early years, we made the traditional Valentine's box embellished with  hearts, glitter and stickers by the kids. About five years ago, I went for the idea of creating a lifetime family tradition – having a box we used year after year.  I decorate for this holiday and leave all the adorable hearts up for two more weeks, when we celebrate our wedding anniversary.
My husband fulfilled all my romantic ideals by buying flowers  on Friday, so I  could enjoy them all weekend.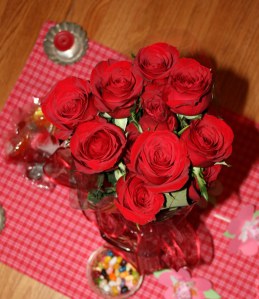 But, on Valentine's Day, it wasn't that flowers that proved his love for me.  They were a beautiful reminder, and I was very appreciative.  Their sight and smell speak to me each time I walk by them.  I realized, though, that even if he hadn't purchased me the traditional dozen red long-stemmed roses, I would have still felt his powerful love for me.
I have learned to see his love in a million different ways throughout the week.
He has cooked for me almost every evening of my low-iodine diet.
He send me love messages during the day by email or by IM.
He senses my moods and acts accordingly to what I need – hugs, alone time, listening or talking.
He reads my blogs and says often, "This is the best one yet!"
He fathers the kids in a way that makes me love him more.
He reads his Bible so he can lead us in the paths of righteousness.
He prays for me.
He looks at me and I know I am cherished.
The roses are a beautiful affirmation of what he daily proves, not a guilty purchase to make up for a day, a week, a month or a year of bad behavior.  They are never a guilt offering, they are a love offering.
But, it was this present that made me feel the most loved.
When one of crazy little monkeys had a sudden onslought of the stomach flu, and threw up all the way to the bathroom and all over the bathroom, he wiped it up.
Never in my wildest imagination, as a single woman longing for that Prince to sweep me off my feet, did I imagine wiping up vomit would be a qualitication for the Perfect Man.  My hubby even has held the bedpan for me as I puked my way through several hospital visits for cancer.
Single women – take note.  Can you imagine the guy you have your eye on wiping up vomit?  Hmmmm….maybe you should keep looking.
There is no wistful daisy-petal-pulling in my world – I only have to use one line from the poem.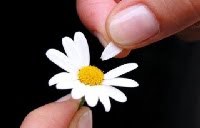 He loves me.
He loves me.
He loves me.
He loves me.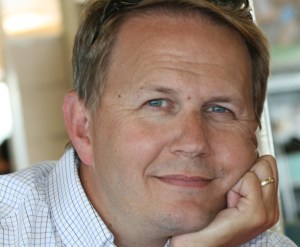 And I love him, too.
Thank you for a special Valentine's weekend, honey!
In case you were wondering how I got that picture of the roses.
Guess I can never yell at the kids for standing on the dining room table again.
So, I'm starting a new week  focusing on the love my husband and I have for each other in the Lord.
Ecclesiastes 4:12, "Though one may be overpowered, two can defend themselves. A cord of three strands is not quickly broken."
That's all I need to  pull me through another Monday and another week, ready and willing to accept whatever the week brings – a cord of three.