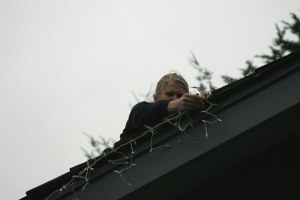 Up on the housetop
Does Bethany pause
Scared to death, holding on by her claws,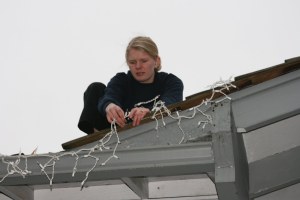 Next to the chimney
Making lots of noise
All to light the house for
Christmas joys
Ho! Ho! Ho!
Pa wouldn't go,
Ho! Ho! Ho!
Ma wouldn't go,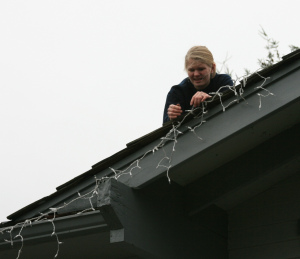 Up on the housetop,
Slick, slick, slick,
Don't fall by the chimney
And bleed on the brick.
Even though she is afraid of heights, Bethany, jumped up onto the roof during a dry day at the end of November, to string our house with icicle lights.
Our family loves having hundreds of little white lights twinkle in our Christmas season. One of our favorite December activities is to curl up in front of the fire in the living room and enjoy the lights shining in our home.
Ever since God said, "Let there be light," Genesis 1:3, believers have loved
light
. These twinkly Christmas lights, though just an American tradition, can remind us of spiritual Truth.
John 12:46, "I have come as a
light
into the world, that whoever believes in Me should not abide in darkness."
John 3:19, "And this is the condemnation, that the light has come into the world, and men loved darkness rather than light, because their deeds were evil."
As you enjoy the flickering brightness of your Christmas lights, turn your heart to the Light of the World. Let His light shine in the darkness of your life and bring the light your heart is longing for. We all have something, some longing, some desire, some struggle, some secret corner in our heart that needs light.
Let His light so shine.