It was just an improptu trip to McDonalds with two buddies who wanted to eat some greasy fries and shoot some hoops in the new playland. It was our last day of Christmas vacation – yes CHRISTmas vacation, not Winter Break – and they wanted to celebrate a little. They even dressed in their basketball shorts to make a more memorable occasion.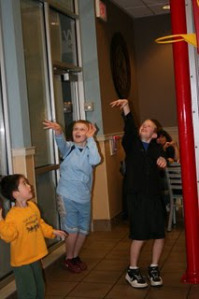 Nice timing, boys!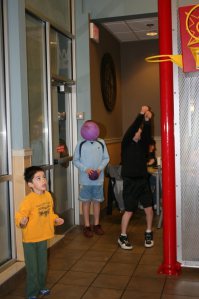 Nice face!
I think he wants to be the new spokesperson for Jack in the Box.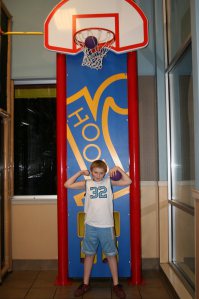 U DU MAN!
Rare footage of the ball actually sticking in the net.
I wonder if the newspapers are interested in this photo?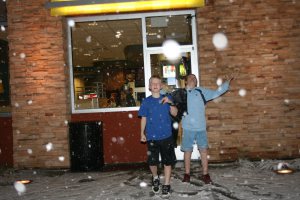 We step outside to winter – again!
In one and a half hours, the ground,
foliage and cars were all covered with snow.
They're too proud to admit their skinny, chicken legs are freezing.
So much for wearing shorts for a memorable experience!
I think they both had goose bumps – or would that be chicken bumps? – on their legs.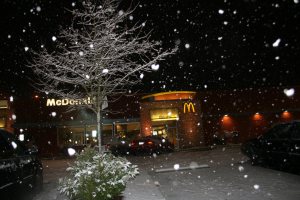 McDonalds may want this pic for next year's calendar.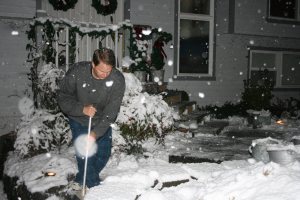 The yard was GREEN when we left for McDonalds.
Since we, midwest natives, left all our snow shovels on the curb when we left Minnesota five years ago, Scott is trying to sweep the snow off the stairs with a dollar-store broom with only half a handle. Apparently, it wasn't too sturdy of a sword during one of summer's battles.

Home, Snowy, Home.
Since it is all white again, do we get to celebrate Christmas again?