When Gramma was diagnosed with Alzheimer's,  humor become a necessary part of our lives. It was a daily agony that our family became strangers to someone we loved deeply. My mother grieved when her own mother didn't remember her, and missed having a relationship with her mom.
When someone has Alzheimer's, you lose them before you lose them.
You can't ask for advice, share memories, or catch up on family happenings. We learned to accept Gramma and live in whatever world she was in that day. There's no longer give and take in the relationship, only give and give some more. You can't even weep for their loss, because they don't know what they're missing.
A staff member, whose name and face draw a blank but her love and devotion still warm my heart,  told me that Gramma called me "The Lady With All the Kids." It didn't matter that Gramma didn't remember who I was, I was thankful she remembered me at all.
My weekly visits to the nursing home confused her.  She sat  politely on her bed or in the main living room where the residents sat and folded wash cloths.
The staff would take a basket of folded wash cloths to another room, mess them up, and bring it back.   They'd say, "I'm sorry, but there's so much laundry today.  Do you mind folding another basket? Thank you so much!" Usefulness gave the residents vigorous purpose.
I rambled about things Gramma knew nothing about to avoid upsetting her.  I monologued an hour or two away talking about the weather, funny things the kids did, and sewing projects.  I didn't ask questions because she wouldn't know the answers.
Gramma and the other residents liked our visits.  We became the center stage act, and residents would shuffle in to watch my kids play with the wing's sorry basket of toys and books. My kids nervously noticed the residents' blank stares and slings of drool, but I saw deeds achieved and lives influenced in their accumulated pasts.  It  brought tears to my eyes on more than one occasion.
As I practiced with my kids at the playground, I warned Gramma when I was leaving.  I'd list the errands I had to run since I was in town. We rented a farmstead in the country and going to town alone with all five kids could only be braved once a week.  I saved all the shopping for one day – Town Day. Then, I'd tell her I was leaving. As I readied the kids to leave I promised her I'd be back, even though she wouldn't remember that promise.
A few times she followed us to the elevator and tried to get on.  I used to think she wanted to come home with us, but now I know better.  She wanted to escape, but she didn't know where she was from, so didn't know where to go.
A staff member held her gently and talked in the reassuring tones they've perfected, while I pushed the button of guilt and watched the doors close in front of her face.
Only rarely did Gramma remember.
A few times she said, "I haven't seen Arne for weeks.  I bet he's off fishing and won't come see me."  Then she'd turn to me.  "I suppose he's off fishing with your husband."
Instead of telling Gramma her dear husband, Arne, had been dead for over ten years, I lived in her world. "Yea, Gramma, you're probably right. You know men." I'd laugh and we'd talk about husbands until that memory dissipated.
If Gramma ever brought up a topic of conversation it was about our husbands.  I was amused  she didn't remember  I was her granddaughter bringing in five of the cutest great-grandchildren in the world to visit her, but she remembered my handsome husband.  Once she even called him by name, although she hadn't used mine in years.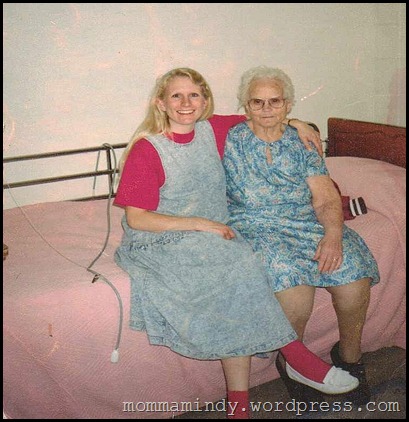 Gramma and me in 1993.
Yep, I'm wearing a stonewashed denim jumper
with a drop waist and believe it or not, I was totally in style.
In my mind, anyway. I'm also pregnant with #3.

One day when we arrived, Gramma was still in her bathrobe.  I'd never seen her in anything but her large, flowered print shifts, with shorts sleeves and rounded necks, stockings and garter belt with sensible shoes.  As a child, we loved when Gramma lifted up her skirt and showed us the rows of little shiny clips that held her stockings up.  She would giggle with the mischievous smirk we loved, then lower her hem modestly.
This day, she had a similar look at her face.  She half grinned, then grabbed the edges of her bathrobe and opened it up. Smiling so all of her dentures showed, she said,  "Look, I haven't anything on under here."
She giggled, and closed her bathrobe while I worried that my children would be scarred for life. She was experiencing the same thrill as when one of my children would escape my clutches after a bath and run naked through the house.
When Gramma had a bit of lucidity, she wanted to make me a sandwich.  She knew the kids and I had traveled to see her and felt obligated to feed us.  At first I tried to make excuses — I wasn't hungry or we had just eaten — but it never calmed her down.  I learned to let her grab my  arm and march me around the floor looking for the kitchen.  After a few laps she'd forget what she was looking for.  Then we could sit together and I would chatter again to fill up the empty space in her heart and mind.
Because it was Town Day, the five kids were always dressed up. The girls would be in a dress or a skirt, their hair done, usually with a special hair bow I'd made by hot gluing a large satin bow  to a clip.  The boys wore nice jeans and button-down shirts. After all, it was Town Day.
One day, Gramma gave me a special gift to pass on to my mom. When we arrived, she was standing by the window on her roommate's side of the room, staring, staring, staring. Her body was still, as she never was in the days when she had her mind, but her eyes darted like a robin seeking for worms. My kids stood with her, joining in her vigilant  watch without knowing what they were looking for.
I knew.  She was watching for Grandpa.  I didn't despair, because I knew at least for a few minutes, she was remembering something.
Something is always better than nothing.
She reached over to my daughter's hair and began playing idly with the silky blonde strands beneath the hair bow.
"My daughter, Mary, had hair just like this."  She continued to stroke the hair and I could vividly see the memory forming in her mind. "And I used to make bows just like this for her."
Wishing with all my heart for a complete breakthrough, I dared to say, "Mary is my mom.  These are your great-grandkids."
She turned, looked through me as she always did, and didn't respond.   I was still just "The Lady With All The Kids."
It was only after my initial disappointment did I see the gift I'd been given.
That day, lost in Alzheimer's sea of forgetfulness, she remembered that she had a daughter named Mary.