A friend was telling me about her life in a matter-of-fact way, knowing I would pray.
She suffers from a very bad back and was standing the whole time we talked, while I slouched in a chair, scootching my feet under me to get really comfie.
She has three friends going through cancer. One is at the end of her life, dying a slow painful death.
She wasn't doubting the Lord, she wasn't angry, she longed for words of encouragement about suffering.
After all, I have been through a little in my life.
I told her we don't experience anything the Lord hadn't already gone through. He walked before us and prepared the path.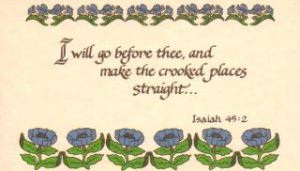 I told her Isaiah 55 says his ways and thoughts are higher than our thoughts and we don't see His big picture, the hundreds of souls He is speaking through the suffering of one of His beloved children.
I told her that if His life was one of suffering, why shouldn't ours be?
I told her the world was Satan's domain, and we were subject to his sufferings as the Lord allowed, but the evil one was literally trying to make life on earth Hell, like his habitat-to-be.
I even told her that Christians get the American dream mixed up with the truth of the Christian life. We expect to grow up, get married, have kids and live happily ever after. We don't ever plan suffering. Instead, we're surprised when it becomes a part of our adult lives, instead of expecting it because the Bible speaks of suffering.
I gave her all the ammo I had. It was good ammo.  It was truthful ammo. It was encouraging ammo.
 But, still I wept.
I know the answers, but I also have to daily live them. Suffering may be a necessary part of Christianity, but it is still so hard. Even the next morning I wept as I thought about the reality of our faith.|
I have to be OK with the fact that my God and Father took a
friend home
, after years of suffering cancer, leaving behind two beautiful young girls who won't have very many memories of their mommy.
Actually, I have to be more than just OK.
I have to praise, worship, adore and believe suffering is right,  because He is right.
I have to believe suffering is perfect, because His ways are perfect.
I have to believe suffering is the truth, because He is the Truth.
I have to believe, or it won't be well with my soul.
Life is hard. Suffering is so hard.
As I thought more about this, I realized how unprepared we believers are for suffering. It's like we put our fingers in our ears when we read all those verses about suffering. All the help and understanding we need is in His Word.
Suffering proves Jesus is the only way.
People of other faiths don't sing hymns while dying on a burning stake. They don't die forgiving and loving their persecutors. They don't lose their bodies to the ravages of cancer, knowing they're leaving behind small children and beloved spouses, and die praising God.
Only Christians can do this.
When Christians are pressed, pulled, beset from all sides and the aroma of Jesus Christ is spread abroad to the nations in a way followers of false gods can never imagine, dream or experience.
Suffering is an important aspect of the Christian life, because it is the greatest thing our Savior did for us.
He suffered for our sins.
He suffered rejection.
He suffered loss of earthly gain.
He was rejected by his family, the government, and the religion of His Father.
We suffer for Him,
because He suffered for us.
(This was originally written November 11, 2011)