I'm thrilled to have a guest blogger, my sister-in-law who's also one of my closest friends. I've  spent hours at her country kitchen dining room table, drinking in coffee and pouring out my heart.
Susan knows all my secrets and keeps them. She inspires, encourages and loves me. I admire her talent of turning the challenging parts of her personal life and her home into beauty.
When we were "junking" this summer, my mom's word for hounding thrift shops, we found this weird item. I dared her to buy it, confidant she would create something amazing.
This is what I've been waiting for.
.
Introducing Susan from McVille, North Dakota
**************************************
It all started when my sister-in-law posted a picture of a Christmas tree stuffed into an old step ladder.
No, wait, it all started when my family moved back to the farm house I grew up in and my sister-in-law and her family visited.
Oops, let's go back even further. It all started when we were newly married women, starting our families and living on budgets that squeaked so much the mice covered their ears.
Nope, that's not right either.….let's go all the way back to the beginning, the day my husband's brother, Scott, knocked on our door and introduced us his lovely fiance' – the beautiful blonde woman you know as Momma Mindy.
I have the pleasure of being related to someone I would've chosen for a friend a hundred times over. We're similar in ways that people who grew up in the same house can't boast. Over the past 26 years, we've laughed, cried, and prayed learning to be good wives to our very good husbands, to having babies (lots of babies!) and trying to raise them to be children of God, to homeschooling, to moving multiple times, to becoming mothers-in-law and grandmothers — it has all been shared during our "prayerallel" lives.
One of our favorite topics discussed while drinking multiple cups of coffee at the kitchen table is decorating. Even back in the days when we lived in apartments with horrible green shag carpeting, we shared ways to turn a house into a home. Our squeaky budgets taught us to be frugal and achieve the look and feel we desired.
Mindy was always better at this than I. No matter where she lived, she wnt to rummage sales and thrift stores and find things she loved. I marveled at her collections beloved items cleverly arranged. And I don't mean the big items; I'm talking about the little accessories – mostly vintage and red – sprinkled around her home that gave a glimpse into her soul immediately upon entry.
I, on the other hand, don't possess Mindy's vision. I limped through the years knowing I needed to make my home pretty and inviting, but struggling with my mix-matched, hand-me-down furniture and accessories. Every time Mindy visited, she had wonderful ideas I  implemented and subsequently loved, but I couldn't keep running with it.
The Initiation into Repurposing:
Then Mindy posted a photo on Facebook that changed my life.
You know that moment – the one when angels sing. (Cue big organ chord – AAAAAHHHHHHHHHH)
I clicked on that glorious photo from Donna at Funky Junk Interiors, and life as I knew it was forever changed. The world of junky décor was my decorating soulmate. Photo after photo highlighted items I already possessed, could make or find, repurposed in new and imaginative ways. 
Rusty and discarded farmstead items suddenly had the potential to become works of art. I'd saved these things for years because they were neat or had belonged to my ancestors. And did I mention the burlap?

Here some burlap, there some burlap, everywhere some burlap!

Finally, a look that I could wrap my brain around – a look that made me happy and could just possibly give a glimpse into my soul. Which bring me to the point of my first attempt at blogging……….
Earlier this summer when Mindy came for a visit, we had a "girlie" afternoon in a neighboring small town.
We coffeed at the little coffee/antique store, then made our way down the street to the thrift shop. Here I discovered the secret to Mindy's treasures – she goes through every little basket in the craft area. You know – those baskets and boxes that no one else ever goes through?

She dug for buried treasure and my eyes spotted a strange-looking wire contraption waaaaaay on the top shelf.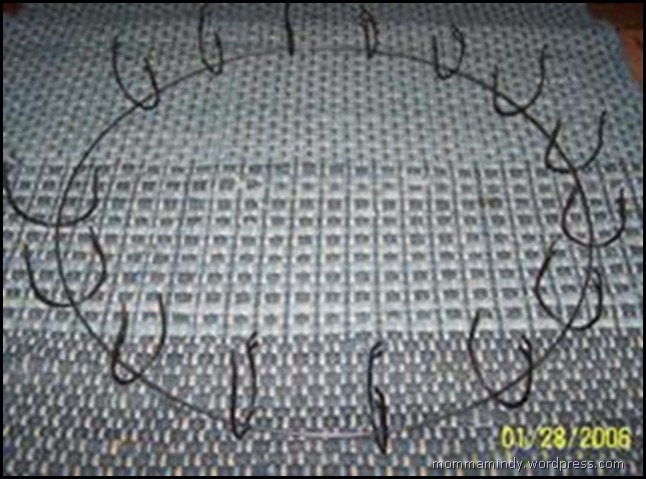 (Please ignore the date stamp – I forgot to reset the camera)
The Inspiration for Repurposing:


We didn't know what it was, but my junky radar kicked in. It was coming home with me. It was marked $.50, but the cashier took one look and threw it in for free!

(A friend later confirmed my suspicions it was a wire wreath form in a previous life.)
My junky acquisition sat around for a couple weeks waiting for my brain cells to fire up.  In the kitchen one day I looked at the antique light fixture that had become a terrible eyesore when we updated to florescent bulbs.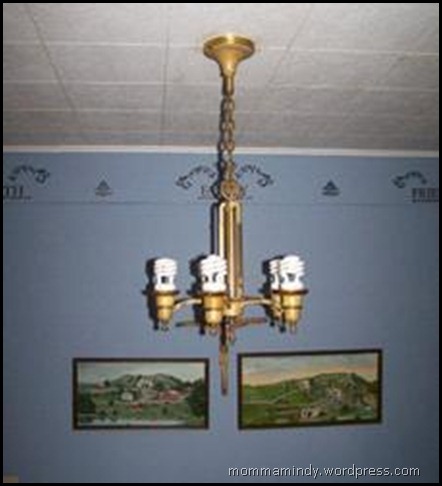 The old globes didn't fit over the wider bases of the ugly fluorescent bulbs. The chandelier is original to the house and has a lovely patina on the metal. It had to stay.

It suddenly occurred to me …… the circumference of the wire form might be the same size as the chandelier!
The Perspiration of Repurposing:
I ran for the form and held it up over the top of the bulbs. It fit perfectly! I measured, cut, and hemmed the burlap, which I keep on hand for just such an occasion. The wire half-circles hooked through the weave of the burlap to attach.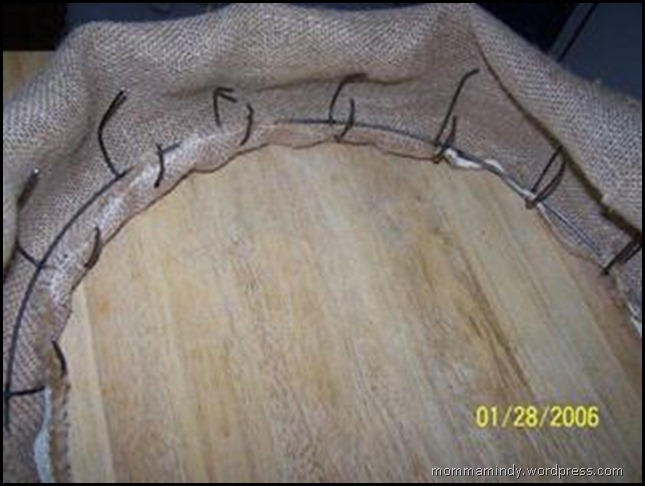 I sewed covers for pliable wire that would hook into the existing chain and suspend the shade over the bulbs.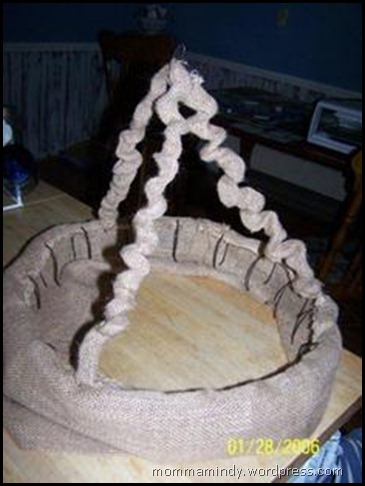 And Ta-Da !
A custom-made junky chandelier shade for about $1.50!
When someone admires my new shade, I tell them, "It all started with my sister-in-law."