Last year I gave myself a title –
Usually proud to be humble,
I don't like to brag about myself.
But, I know how to wrap presents.
I begin saving empty boxes in the fall,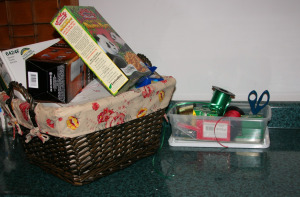 so I am ready for wrapping festivities.
But, the purpose of the present isn't just to wrap it up.
We intend the receiver to
unwrap the gift, love it, appreciate it and use it.
We hate giving a gift that is a flop,
it didn't fit or the receiver didn't enjoy it.
We would be infinitely more disappointed if our gifts
remained unopened under the tree.
That would be ridiculous.
Do you think the Lord Jesus ever feels that way about the gifts He gives us?
Our first gift is salvation.
Ephesians 2:8
For by grace you have been saved through faith,
and that not of yourselves;
There are other gifts the Lord gives and wants us to
unwrap them,
love them,
use them,
and
share them.
Ephesians 3:7
I became a servant of this gospel
by the

gift of God's grace

given me
through the working of his power.
Romans 5:17
…those who receive abundance of grace
and of the

gift of righteousness

will reign in life
through the One, Jesus Christ.
Romans 5:18
…through one Man's righteous act the
free gift

came to all men,
resulting in

justification

of life.
1 Corinthians 14:12
since you are zealous for
spiritual gifts,
let it be for the edification of the church that you seek to excel.
1 Timothy 4:14
Do not neglect the gift that is in you,
2 Timothy 1:6
I remind you to stir up the gift of God which is in you…
1 Peter 4:10
As each one has received a gift,
minister it to one another,
as good stewards of the manifold grace of God.
Don't leave them under the tree.
1 Peter 2:24
…who Himself bore our sins in His own body on the tree.