I never wanted to be one of those parents who relived their lives through their children.
My children were exposed to my interests and hobbies, but I didn't try to form them into little mini-mes. I wanted them to choose their sports, hobbies, and  interests.
But, when two of my children chose to play my favorite sport, I have to admit I was thrilled.
My daughter Rebekah, taking after Mom.
Watching my daughter play catcher last weekend brought a sandstorm of sandlot memories.
I started playing softball in Helena, Montana, when I was 9 years old. I was in third grade and was the smallest kid in my grade. My older neighbor, Tammy, invited me to play on her team. She was the pitcher and I was the catcher.
Actually,  I caught the ball very few times that first year. The city park league only had a  huge face mask that  Sarah, the league umpire, had to adjust to its smallest size each inning I played. Even then, it slid down until the large foam piece covered my eyes. I  either held my head tipped back slightly or held the mask up with my right  hand and tried to catch with my left hand.
It definitely didn't help my ability to catch the ball. It didn't help with my throwing, either, as I rarely threw it all the way back to the pitchers mound.
Tammy patiently pitched on, always smiling and never showing  frustration while chasing after my bad tosses, again, and again, and again, and again. After a few games she suggested I step a few paces past the plate to shorten the throwing distance. That only slightly improved my aim.
Except for an occasional walk, I always struck out, but she and the older teammates still cheered me on. I never  knew how terrible I played, until I got better.
When I played my last year in the Junior League I was chosen as the first baseman for the All Star Team and won League Most Valuable Player. I carried home a large trophy and a heart full of gratitude.
Even at a young age, I knew I hadn't improved on my own.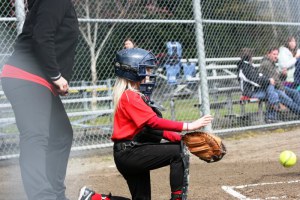 We played in regular clothes and some of us didn't have athletic shoes. We used our dads' and brothers' gloves. My dad's glove was so old it was flat when I set it on the bench and was dark brown from years of oiling. But, I was so proud of it, because it was my Dad's.
There were no uniforms, sometimes not even coaches who showed up. Our practices and games were during the day so parents rarely came. It was just about a dozen girls on each team who loved playing softball.
Times have changed.
Rebekah and her teammates wear the full uniform, down to cleats and the cool elastic belts. The stands are filled with cheering parents. The kids get trophies every year just for playing.
There's one thing I hope doesn't change – that she will always love the game.
Someday, I hope, a cloud of sandlot dust will bring back a sandstorm of wonderful memories.