I made these headbands over a year ago, but you probably didn't need to know that. Sometimes I'm a little slow in getting a blog post done.
I started with silk flowers from the Dollar Store,
and a wide headband from the Dollar Store.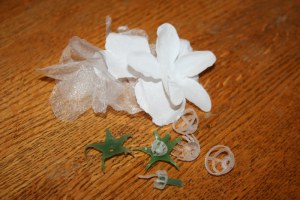 I like my flowers to be really full, so I began by taking the flowers apart, and throwing away all the plastic pieces.
I know some of the craft bloggers would probably make something really cool out of those pieces, but I needed to get them in a garbage can before they ended up my grandchildren's noses.
Of course, my kids didn't do strange things like that, but my grandkids sure do. Don't know where they get some of their habits. 🙂
Any hoo…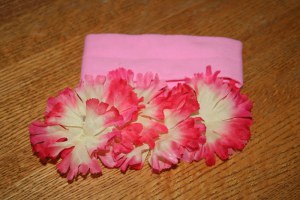 I prepared my supplies.
The layers of silk flowers were hand-sewn together, then sewn onto the headband.
I used a lot of stitches.
Kids can be rough on things.
Isn't she loverly???
I love huge flowers on beautiful little girls.
My grandson is also adorable, but yanked this off his head. He didn't like the fluffy stuff his big sister put on his head. After all, his nickname is Bubba.
Doesn't every family need a Bubba?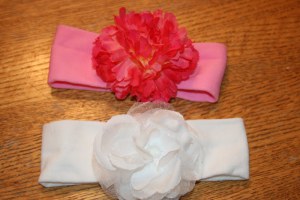 Done.
$2 each
He definitely didn't like the pink one his big sister put on next.
Silly family.
Why would they put flowers on a little boy and take his picture when he cried?
I dunno.
Cuz' he's so stinkin' adorable?
My daughter, Rebekah, (far left) is in a
Keepers at Home 
group with these girls and their moms. The Lord brought us together in wonderful way. All four moms have older teenage kids and second grade daughters.
I've been teaching the girls hand-sewing, so this was the perfect project to work on their skills. Some of the girls chose to hot glue a large button in the middle of their flowers.
Beautiful, beautiful, beautiful, beautiful.
Flowers are a reminder for one of my favorite promises in the Bible,
And its flower falls away,
These girls are being raised with more than just helpful skills for their future lives.
They're being raised with the enduring Word of God for their eternal lives.