Memorial Weekend is celebrated in America with picnics, family reunions, camping trips, cook-outs, gatherings with friends, yard work,  and sleeping in. Other than the traditional foods, it tastes of the anticipation for the summer ahead.
But it's more than just an extra day off to celebrate with family and friends.
 It's a day to memorialize those that have given their lives in military service.
Through the years, the time of remembrance has extended to include any who have passed on by visiting and decorating grave sites.
It's also celebrated with patriotic activities, like ceremonies to honor our Veterans.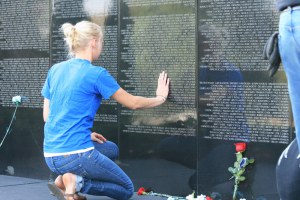 It's always hard to remember, but we need to.
We must revisit the pain to honor the fallen.
Sometimes the most life-changing remembrances are celebrated with tears. Tears can water the parched soul and bring healing, or parch the soul as with bitter water.
In all your remembrances, may your tears bear the peaceable fruit of righteousness.