To me, white furniture looks a little…….
naked.
If I can say that word on a  Christian blog.
Like a lady  in public in her pantaloons or bloomers, it just isn't right.
This little beauty below was found in a eclectic shop that sells vintage and antique items. I described the space in my foyer to the owner.
"I live in a split level where you walk into the house and there's  a 4ft x 6ft foyer.  On your  right the first staircase goes down, the next staircase on the right goes up.  Imagine six people walking in the door, trying to get off coats and shoes without knocking each other up or down the stairs."
I'm not a huge fan of the split level, especially when it has a tiny foyer.
A large oak mirror with hooks was hanging, but it needed something underneath for organizing and display. Something very narrow.  Something that wouldn't get knocked down the stairs with the two children "accidentally" touching each other while trying to kick their shoes at each other off.
It also needed to be painted black and distressed.  By distressing your furniture ahead of time, it keeps you from being stressed and distressed when the kids scratch and dent it.  'Cuz, ya' know they will.  It's their job to ruin your stuff.  To test your patience and all that jazz.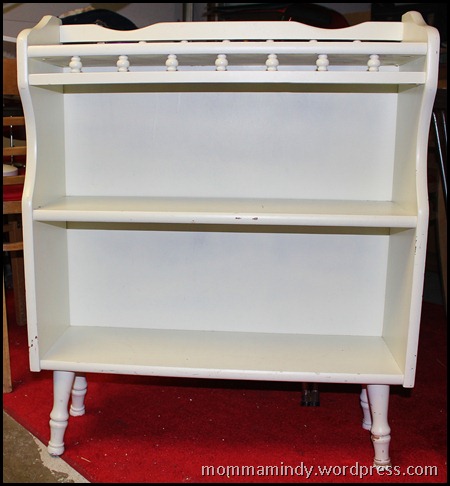 As my kids would say "Perf!"  That's teenage for "perfect" they inform me, as if I wasn't cool enough to translate.  But, it's more than "perf", it's "tote perf."
Yea, it's groovy, too, for those of you older than me and missing your high school journey.
Back to the shelf. It was narrow enough.  And cute enough.  Just too white.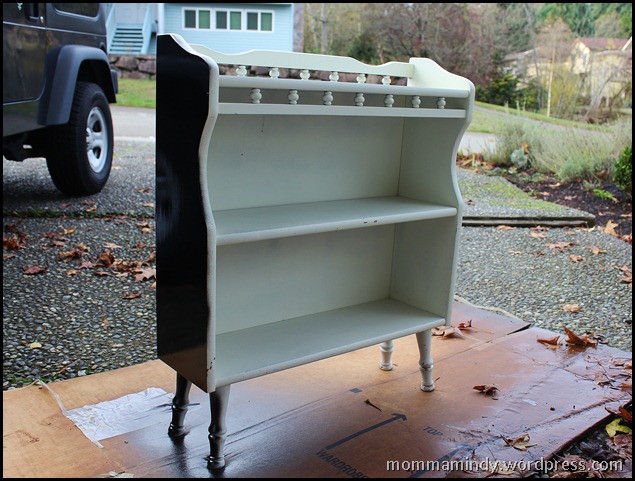 Not for long!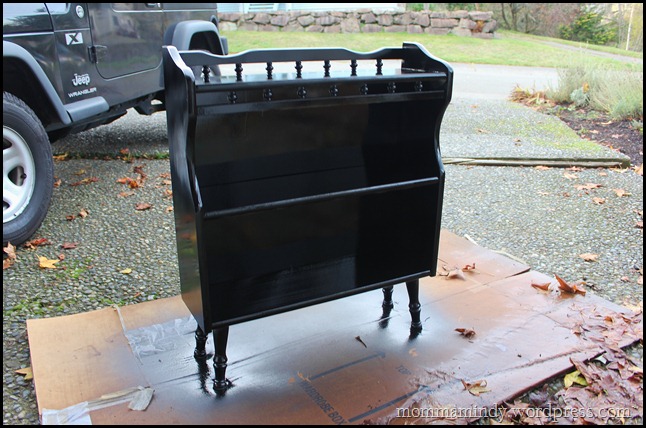 Done.  So glad my favorite color is in style.  Makes it so much easier.  So glad my favorite medium, spray paint, is in style.  I was spray paint when spray paint wasn't cool.  But, the new wave of coolness has dared me to paint even wood furniture, something I wouldn't have done before.
A little sanding afterwards to take away the shiny "I just got spray painted look" and give it the distressed look,  and it was a done deal. I'd like to eventually find baskets so each kid can have one for hats or mail or keys or whatever else they don't want to put away and it would end up "decorating" my foyer, or staircase or kitchen counter.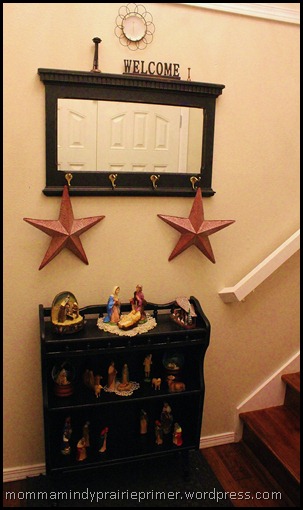 I always wanted a foyer that was welcoming. I don't consider a pile of stinky shoes welcoming, but my children do. 
To me it says "MESS!" 
To them it says, "Hey, take off your shoes and stay awhile."
So, whether or not they take off your shoes, I hope our guests feel welcome when they walk into my split level home with the little foyer.
I just hope nobody falls down the stairs while looking at the vintage Christmas nativity stuff I displayed…