My hubby is wary when I bring something unusual home from the thrift store or a garage sale, especially when it's vintage and it needs to be repurposed.

Rightfully so. Either he has to look at the thing for the rest of his life, fix it, or make it into something. Like all the neighbor's gray fence boards he  helped me bring home last summer? "Really?  You WANT all his old fence?"
Yep, really, I wanted it and used it. Now he loves the area I created and named The Redneck Grill. He had his initial moments of doubt.
He had those same doubts when I walked through the door with this.
It snows very little in our neighborhood. We can drive up the mountain and be around tons of snow, if we wanted to. We rarely want to. Scott and I spent most of our lives living in the upper Midwest, being were stormed in and shoveling out at least six months each winter.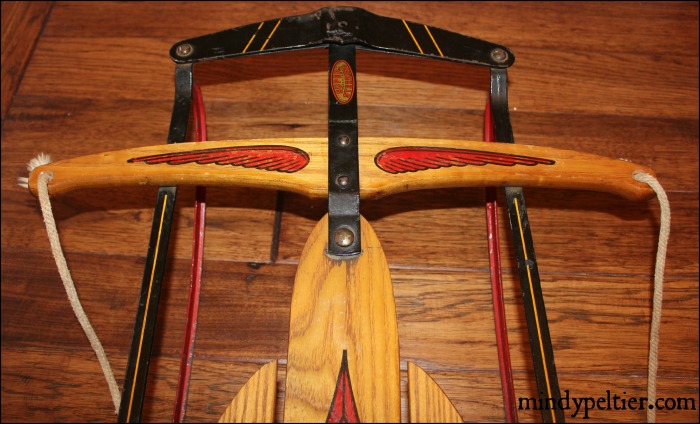 But this was a beauty I couldn't pass up at Value Village. Don't those wings convince you this sled could make you fly?
That's why they named it the Flexible Flyer. This model is the Airline Patrol for kids who dream of being a Pilot when they grow up.
"So, what are you going to do with it?" he asked with the caution of a man whose Honey-Do List is always longer than a kid's Christmas Wish List.
I assured him I was going to use it to display food on the buffet line for the Christmas party we were hosting. He was relieved.
An hour later I had a burst of genius. "Scott, there was a longer sled there, too, but I passed it up because I didn't know what to do with it. Now, I know what I want to do with it. It would make a perfect coffee table!" 
A few hours later, we drove back to Value Village.
It.
was.
gone.
I was so disappointed. Why can't I be genius when I'm standing in front of an item, not after it's sold to somebody whose light bulb went off in the store?
The gorgeous Flexible Flyer would be repurposed into a coffee table, and my old sled that usually decorates the front porch would go on the buffet table.
Various crates were tried underneath, they were too big. I wandered around the house, in the garage and the sheds looking for inspiration.  I crawled up in the attic, but only succeeded in hitting my head.
I had to break the news to hubby. I needed help. He was The Help. After all, it was Saturday and he had the whole day off to be at my disposal. At least that's the way I looked at the situation.
We debated back and forth on how to make the vision come true. The frame couldn't take away from the beauty of the sled.  It had to be easy to build.  It had to be cheap. It had to be sturdy enough to put coffee cups on without spilling. I hate wasting good coffee.
This is what we came up with. Together. Because neither of us is right all the time, but mostly I am.
Just kidding!
He's just learned that when I have a project vision, I'm not asking him to change the vision, but help it come true. I've learned that my repurposing  ideas aren't always practical or possible, so we have to talk until we can breathe life into the vision.
I loved his little details of covering the screws with those little brown half-circle thingies and the stabilizing bar across the middle. I would have been satisfied with less, but he went the extra mile.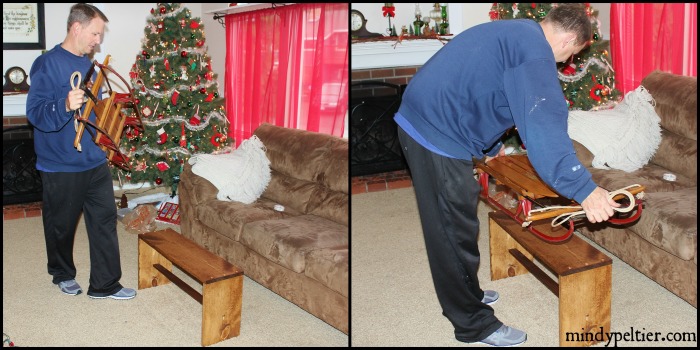 The moment of celebration!
As we sat and admired the coffee table,  I realized it was good for me to make  ask him to do this. He loves working with wood and it's a great stress reliever. He has a lot of stress in his life.  I always worry about his heart health, but you know men and doctors. The only men that go to check-ups willingly are the docs themselves.
Anyhoo –
He relaxed.
He laughed.
He enjoyed.
He's pleased with the work of his hands and the ability to make my vision come true.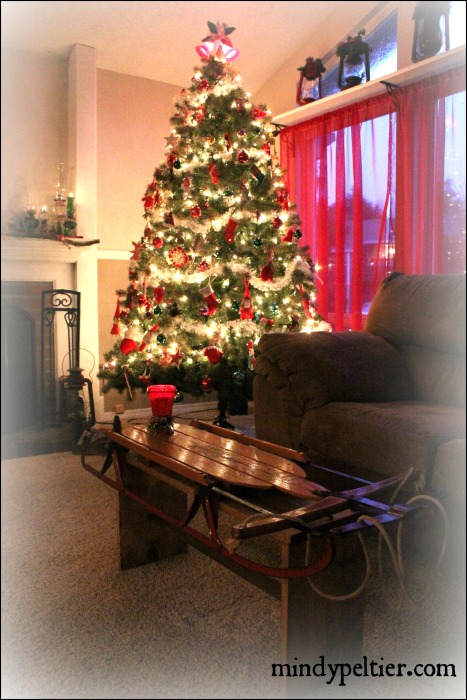 The sled coffee table is a success in so many ways.
I think the more Honey-Do Projects I come up with the longer my Honey will be around to do them.
During an IM exchange a few days later, he said,
"i really love building and creating:  sort of my art work
and…my dad was a great carpenter

can't wait for the next project… bring it on"
Guess I'll be taking more trips to the thrift store to find an unusual item.
A vintage Flexible Flyer sled became a coffee table and a Christmas tradition.