We've been experiencing fog that lingers all day long. Usually, it greets us in the morning and burns off by early afternoon.
It makes for beautiful scenery, but treacherous driving.
The fog settles around your home, your street and your world like an unwanted hug that's lasted so long
you're squirming uncomfortably.

The White Fog Creeps From The Cold Sea Over The City
by Conrad Aiken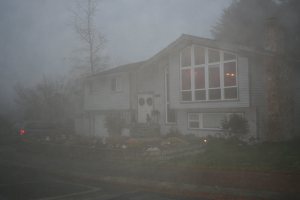 The white fog creeps from the cold sea over the city,
Over the pale grey tumbled towers,—
And settles among the roofs, the pale grey walls.
Along damp sinuous streets it crawls,
Curls like a dream among the motionless trees
And seems to freeze.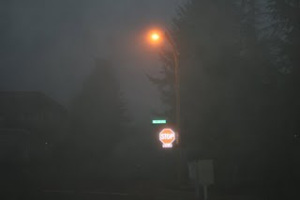 The fog slips ghostlike into a thousand rooms,
Whirls over sleeping faces,
Spins in an
atomy
dance round misty street lamps;
And blows in cloudy waves over open spaces . . .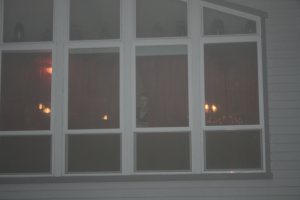 And one from his high window, looking down,
Peers at the cloud-white town,
And thinks its island towers are like a dream . . .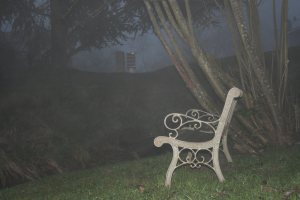 It seems an enormous sleeper, within whose brain
Laborious shadows revolve and break and gleam.
And, a well-known favorite…….

Fog
Carl Sandburg
The fog comes
on little cat feet.
It sits looking
over harbor and city
on silent haunches
and then moves on.
Sara Teasdale understood the emotional impact
of being oppressed by unrelenting weather.
Gray Fog
Sara TeasdaleA fog drifts in, the heavy laden
Cold white ghost of the sea —
One by one the hills go out,
The road and the pepper-tree.
I watch the fog float in at the window
With the whole world gone blind,
Everything, even my longing, drowses,
Even the thoughts in my mind.
I put my head on my hands before me,
There is nothing left to be done or said,
There is nothing to hope for, I am tired,
And heavy as the dead.
As the fog continues, I choose to enjoy it. I will feel the fog wrapped around me like a cozy afghan,
I will enjoy presence of the watery mists that makes me focus on only what is before me…because I know I have much to hope for, my hope is in the Lord, who is muting my world with His breath of love.