Remember when I wrote about the
City-Slicking Redneck Vacation
I gave the tantilizing promise of showing ya'
a Redneck Breakfast?
Pull out your tastebuds, here's the recipe.
Wake up when you wanna'
and start a delicious fire in your firepit.
We've lost the ability, or actually the desire,
to start a fire with one match.
We use wax fire starters now.
I know, totally cheating, right?
That's the City-Slicker in us.
It's now more important to be able to merge
between a Lexus and a Hummer going 60 mph during rush hour.
(City-Slicking Traffic Tip – the more expensive car you pull in front of,
the more likely they are to tap their breaks and let you in.
They don't wanna' hurt their precious cars, ya' know.)
Add a few more logs and a cuppa' coffee.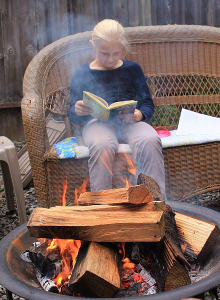 For good measure, add a few more logs and
one mystery-reading daughter.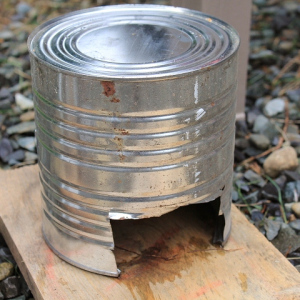 Remember that coffee can from yesterday?
It can easily be transformed into a Buddy Burner.
Cut an opening neatly  into the bottom,
like I did,
to slide the fuel inside.
Fuel is a tuna can filled with tightly
rolled up corregated cardboard, then filled with melted wax.
If you add too much, like I did, it is hard to get the flame started
and you end up chipping a lot of wax off.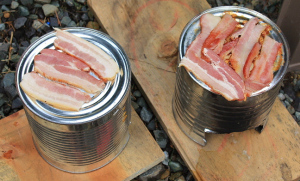 Add a man's favorite ingredient – BACON!
It gives a man a reason to hang around and cook the rest
of the breakfast, especially when you forgot to use a
bottle opener to slice open triangular air holes on the top of the can,
like I did.
OOPS!
That's why the bacon cooked so slowly.
When the bacon is finally crispy and there's bacon
grease on the burner, you're ready for the eggs.
Gently dab a few little bacon grease behind your ears
if you want some extra attention from the Hubbster that day.
He'll be so enticed, he might stop sneaking out to his car
to sniff his New Car air freshener.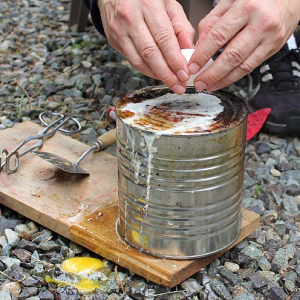 Crack the first one open, and when it slides into the gravel,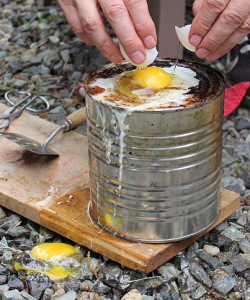 quickly crack open another egg and hope your wife doesn't notice.
At this point we considered taking out the
one-burner propane stove to facilitate efficiencies.
How's that for City-Slicking lingo?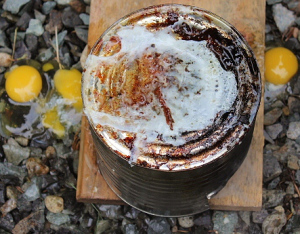 When the third and fourth jumped off the ledge,
just because their friends did,
ya' gotta' come up with a new plan.
At this point, Hubby was on his game.
He WOULD conquer the Buddy Burner.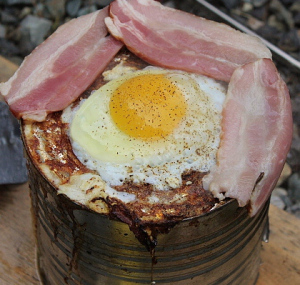 Ah, hah!
Triumph!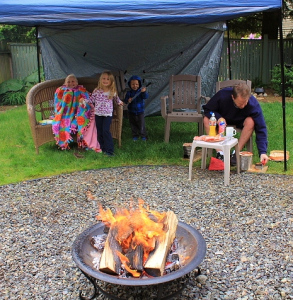 When rain threatens progress and children are still hungry,
throw up the canopy and keep cooking.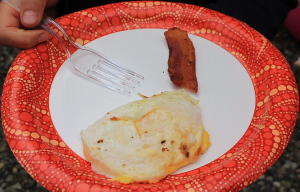 Sip more coffee,
then cook this over and over, until all little tummies are full.
Marvel that the day isn't even half over,
sip more coffee,
then dream and drool about the ribs  yer' gunna' cook
on the firepit for dinner.
If your coffee has to be made from freshly ground
fair-trade coffee beans,
you MUST be a City-Slicker.
If you've cooked breakfast on a coffee can,
and eaten it with gusto,
you MUST be a Redneck!
If you've done both,
on the same weekend,
you MUST be a City-Slicking Redneck!