My husband and I grew up in the upper Midwest, got married and stayed. Most of our married life we lived in the country.
We hunted, camped, fished, gardened, and daily performed other self-sufficient practices.
We wore tennis shoes, jeans and t-shirts almost every day, except Sunday. In the Midwest, this uniform was even office wear. If you wore buttons and shoelaces that weren't white you were considered dressed up.
Ya' know, we had that  total Redneck and Lovin' It Thang going on.
The Lord has a sense of humor and moved us to a large city  in the Pacific Northwest eight years ago.
So, I don't mind wearing high heels to the grocery store, and my hubby now owns dress slacks AND matching socks, he rocks the socks, I tell ya', but there's still a little bit of Redneck left in us.
That's why I've coined the term City-Slickin' Redneck.
We style both of these worlds with our looks and our lives.
Eight years later, we  still aren't in the habit of reserving a camping site 9 months ahead of time at one of those well-groomed, fakey camping places.
Who in the world plans their life that way? Other than all the bajillion people that live out here, that is.
This Memorial Day, we dun did us some City-Slickin' Redneck Camping.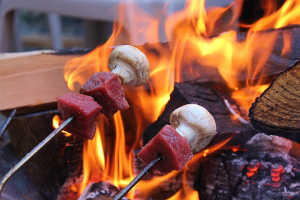 For the City-Slicking part,  we procured some fine cuts of beef and some organic 'shrooms for our main cuisine.
(For you Rednecks that haven't slicked to the city, that word cuisine just means food.)
*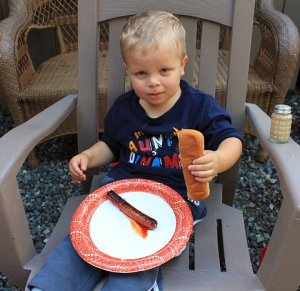 Anybody nicknamed "Bubba" is automatically a Redneck, so this grandson ate a tube steak. A Redneck one at that, because I don't think it was free-range, organic, nitrate/nitrite free.
*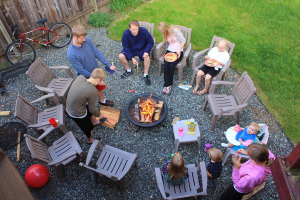 The theme of our weekend wasn't that we had an astounding plan that thrilled and amazed everyone.
The plan was just to be together.
We had a long year of suffering, grief, and loss.
There was a huge need to celebrate the simple things, like family, green grass, new books, endless cups of coffe, and love so deep words aren't always needed.
The simple plan met simple needs and wants.
We all like to eat.
We all like to relax.
We all like to stare at a fire and giggle about past family experiences.
Think our campsite looks a little suspicious?
You're so smart.
That's the Redneck part of our celebration.
Yea, this IS our backyard, thanks for asking.
Urban Camping, another phrase I invented, is amazing.
I didn't have to make a reservation, pay a fee, fill the cooler, air out the sleeping bags,test the air mattresses,
etcetera,
etcetera,
etcetera.
(Random trivia, name that movie!)
I simply started a fire in the early afternoon, grabbed a book, and began relaxing. Gradually, the rest of the family was drawn to the scene, especially when the food arrived.
When the fire was doused, we all crawled into our OWN comfy beds. Ya' know, the kind that don't have to be rolled up in the morning?
We woke up when we wanted to, not when the bad camping neighbors cut through our campsite on the way to the bathroom.
We didn't have to fight I-90 traffic back into suburbia, wishing more people had stayed home for the weekend.
And the next morning we….
….your gunna' hafta' wait to hear what
 the City-Slickin' Rednecks
made for breakfast…
I'll give ya' a hint…..
ya' need tu drink a lot of coffee…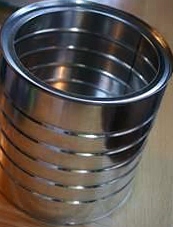 and keep the can.